News
Conquering in Danish? Eurovision entry rated sixth least likely to win by bookmakers
---
This article is more than 2 years old.
Fyr & Flamme likely to go down in flames say experts … unless all of the other entries are ballads and the whole continent suddenly succumbs to a strong urging for crap 1980s pop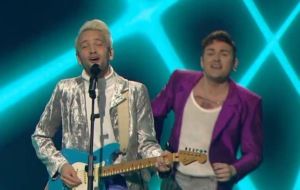 Leicester City have more chance of winning the English Premier League than Denmark has of triumphing at Eurovision, according to the bookmakers. 
With ten games remaining, the Foxes are 12 points adrift of Manchester City with a vastly inferior goal difference: few punters will take the 250/1 on offer.
Denmark, which on Saturday chose the song that will represent the country at the Eurovision finals in Rotterdam in May, is 300/1 – the sixth least likely to win out of a field of 41.
In fact, its participation in the final on May 22 is extremely improbable – a swift semi-final exit being the most likely outcome.
Europe will 'ø' and 'å' when they hear this!
So why has Denmark chosen a complete no-hoper as its entry? Beyond a few snazzy early 1980s outfits and dance moves, duo Fyr & Flamme's song was distinctly … forgettable.
The simple truth might be because it is in Danish – the country's first submission to the finals without a single word of English in it since 1997, when rapper Kølig Kaj competed with the song 'Stemmen i mit liv'. 
When the title 'Øve os på hinanden' flashes up on screens all over Europe in May, it will be the first time the letters ø or å will have featured in the contest this century.
In fact, beyond Kølig, you would have to go back to 1989 to find a more Danish-sounding entry: 'Vi maler byen rød' by Birthe Kjær.
That entry, however, was more memorable and ended up finishing third.
A hint of nationalism?
Fyr & Flamme (fire and flames) – singer Jesper Groth and musician Laurits Emanuel – have ruled out following the lead of 2005 winner Jakob Sveistrup, who translated his song into English after winning with it in Danish.
"It is a song made according to some Scandinavian traditions. I cannot imagine at all how we should be able to translate it. So we will stick to Danish," said Groth after Saturday's victory.
DR expert Ole Tøpholm suggests their victory might reflect a weariness with English and a hankering for the "old days". 
"With this winner comes a more national sentiment. Over the years there has been growing demand for us to return to different countries singing in their own language."
After all, the Danish entry comes just months after the completion of Brexit amid rumours that the EU is considering changing its official language. 
Expert: likely to go down in flames
And there are commenters who believe they have a chance of making it to the final, although the odds are long … very long indeed.
"If the other countries, for example, all choose to send big ballads, we will stand out," Morten Madsen from fan site Eurosong.dk told DR hopefully. 
But overall, he thinks the Danish approach will backfire, as Fyr & Flamme's performance is a "bit difficult to decode".
I think there are some who may be in doubt as to whether it is supposed to be funny," he added.
Tøpholm was optimistic, though: "There are many who yearn for this 80s trend in Europe. So this is our chance."
Tøpholm should put his money where his mouth is and rip the bookmakers' arm off. Meanwhile, DR should reconsider referring to him as an Eurovision expert.