News
Science-Business Round-Up: MIT-Denmark is thriving!
---
This article is more than 2 years old.
Two robot trials in Denmark have also gone well: one in north Jutland to help dementia patients, and another at an airport near Odense to patrol its perimeter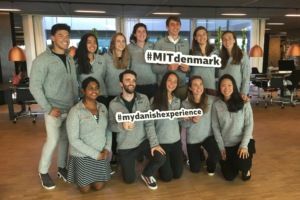 MIT-Denmark continues to thrive despite the pandemic.
The initiative – which connects students and faculty from the prestigious US university with institutions and industry in Denmark, mostly through Dansk Industri, to advance critical research, build new technologies, and create innovative partnerships – has been busy making MIT university campus more sustainable within the areas of architecture/community spaces, energy, and food/waste.
Heavy Danish involvement
MIT International Science and Technology Initiatives (MISTI) contends that its Green Campus Challenge is also helping its students "to broaden their cross-cultural competencies".
The MIT students collaborate with their Danish peers on the project. CBS, DTU, Aalborg University , the University of Copenhagen and the University of Southern Denmark are all involved, as are Rambøll, SPACE10, Blue Lobster, EcoTree and DTU Skylab.
---
Jutland municipalities trying out social robots on dementia patients
The municipalities of Aalborg, Viborg, and Skive are trialing social robots to see what effect they can have on their eldercare – primarily on its treatment of patients with dementia. The Japanese-designed LOVOT robots use AI to interact with individuals. They are capable of forming relationships, expressing love and spreading joy, and are suitably cute in appearance. The results are being assessed by researchers from the Laboratory for Welfare Technology at Aalborg University. 
Odense cannabis producer finally makes its first sale – in Germany
Aurora Nordic grows cannabis at a 9,000 sqm facility in Odense, but is still waiting for regulatory approval to sell its products in Denmark. However, it now has clearance to sell in Germany, and its 'Made in Denmark' products have arrived at 150 pharmacies this month. 
Another NASA order for Danish Aerospace Company
NASA has ordered another FERGO space ergometer from Danish Aerospace Company. It will pay 3.2 million kroner, taking its total spending over the last three years with the Odense-based producer to 14.8 million.  Since 1992, DAC has supplied 18 ergometers along with accessories and spare parts. An ergometer measures energy expended during exercise. 
Airport trial of perimeter patrol robot a success
In partnership with the Danish Technological Institute, Hans Christian Andersen Airport near Odense recently trialled a four-legged robot that patrolled its perimeter fencing checking for damage. 'Spot' was connected to TDC NET's Ericsson-powered 5G and the trial, which concluded at the end of February, was hailed a success for demonstrating a robot's ability to patrol a wide area using mobile networks. 
Mexican-based companies inspired by Danish initiative
Inspired by a similar scheme in Denmark, several companies active in Mexico – including Nestlé, Bimbo and Audi – recently agreed with the Mexican government to make large investments in energy efficiency over the next three years. Once implemented, the energy savings will reduce annual CO2 emissions by more than 55,000 tonnes. The government's energy agency CONUEE visited Denmark to learn of the Danish Energy Agency's similar energy efficiency scheme in 2016.
Bloomberg criticises PFA for fossil fuel investments
Danish pension group PFA has been called out by Bloomberg for owning bonds with a value in excess of 400 million dollars that finance the extraction of fossil fuels in Canada and Vietnam. The ownership of the bonds, which help to finance tar-sands oil production in Alberta and the expansion of a thermal coal project in Vietnam, undermine PFA's pledge to cut carbon emissions and promote sustainability, claims the report, which accuses the pension company of greenwashing.