News
Local Round-Up: Tivoli opening for the whole of Holy Week
---
This article is more than 2 years old.
In other news, Søren Kierkegaard's gravestone is getting restored, Copenhagen's population is still rising despite the pandemic, and the Globe Irish Pub are handing out free Guinness to mark St Patrick's Day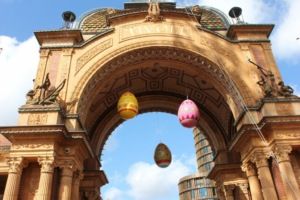 Many restaurants and bars quickly adopted the custom of providing their patrons with free facemasks in order for them to enter last year.
And now Tivoli, which has confirmed it will reopen its doors on Saturday March 27, is upping the stakes to offer onsite 30-minute coronavirus tests.
In order to enter, it will be necessary for all guests over the age of 15 to provide a valid ID and a negative COVID-19 test acquired within the previous 72 hours.
Should they be unable to, help will be at hand from a Falck testing facility at Tivoli that will guarantee quick results.
Closed for over three months
From Saturday March 27 until the end of Easter, the themepark will be open between 11:00 and 20:00, and then until the end of April from Friday to Sunday only.
All visitors will need to reserve a time prior to showing up. Reservations will begin sometime in Week 12, but Tivoli has not confirmed exactly when.
Tivoli has been closed since the latest lockdown started on December 9.
Meanwhile, Bakken, the capital region's other major themepark, is scheduled to open on March 26.
---
One of Nørrebro's most treasured graves is getting a facelift
Assistens Kierkegaard is a hotspot these days for COVID-friendly hangouts, and now the locals have another reason to visit the cemetery: Søren Kierkegaard's gravestone is getting restored. The philosopher, whom the cemetery is named after, was buried there 165 years ago. Generous donations from the Augustinus Foundation and AP Møller and Chastine McKinney Foundation have raised 480,000 kroner to renovate his gravesite. The restoration work is the responsibility and priority of the National Museum's conversation department and is expected to be completed July 1.
Copenhagen growing despite the pandemic
Despite the coronavirus pandemic spoiling many people's plans to move to the capital, its population still rose by 5,800 people in 2020. Broken down, there were 6,550 new-borns and a net gain from other countries of 2,750, minus a net migration to other municipalities of 3,400. The growth was 3,650 fewer than expected. Just over 638,000 people live in the capital, and a further million-plus in the surrounding capital region. The capital is expected to grow by more than 127,000 inhabitants by 2050. Nevertheless, the number of families with children seeking to leave is increasing.
Frederiksberg's local water no longer needs boiling
Residents of Frederiksberg can now drink their water again. Last Wednesday, residents were advised to boil their water due to the risk it had been infected with bacteria derived from soil, and subsequent investigations determined that water had been polluted in two places. Despite the all-clear, it is still recommended that residents let their water run for five minutes before drinking.
Authorities breathe easy after "insane" reopening party is cancelled
A party organised by Malue Montclairre of Frihedsbevægelsens Fællesråd, the 'Freedom Movement', was cancelled today at Thorvaldsens Plads near Parliament due to bad weather. Over 2,400 people had signed up for the event and an additional 4,800 were 'interested' in attending. Many were expected to arrive by coach from all over the country. The party was scheduled to take place to mark the one-year anniversary since PM Mette Frederiksen announced the first lockdown, and the justice minister, Nick Hækkerup, appealed to people to stay away. Nils Strandberg Pedersen, the former head of Statens Serum Institut, called the plans "completely insane".
Globe to hand out free Guinness on St Patrick's Day
The Globe Irish Pub has confirmed it will be handing out a free takeaway pint of Guinness from outside its front door to customers between 16:00 and 18:00 on March 17 to celebrate St Patrick's Day. In adherence with the restrictions, no loitering will be allowed. Those who donate to 'Shamrock Love' will also receive a complimentary hat!