News
Face masks are a ticking plastic bomb
---
This article is more than 2 years old.
New Danish research has shed light on a problem that is growing across the planet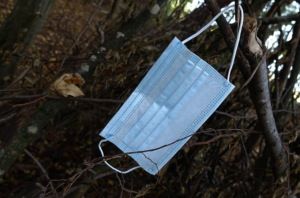 Thanks to the COVID-19 pandemic, around 130 billion facemasks are consumed globally on a monthly basis.
The vast majority of facemasks contain plastic and research from the University of Southern Denmark – in collaboration with Princeton University – are up in arms over how they are disposed of across the planet.
"When not properly collected and managed, masks can be transported from land into freshwater and marine environments by surface run-off, river flows, oceanic currents, wind, and animals," the researchers wrote in the scientific journal Frontiers of Environmental Science & Engineering.
"The occurrence of waste masks has been increasingly reported in different environments and social media have shared wildlife tangled in elastic straps of masks."
READ ALSO: Viking-looking doctors advised to mould their beards into their facemasks
Best practice needs
Many disposable facemasks are non-biodegradable and wear down into smaller plastic fragments – known as micro- or nanoplastic – when discarded.
These small plastic bits can easily spread and be ingested by humans and animals alike.
While an estimated 43 billion facemasks are produced every month, there are no guidelines or recycling strategies in place for once they've been used.
"When breaking down in the environment, the mask may release more micro-sized plastics, easier and faster than bulk plastics like plastic bags. Such impacts can be worsened by a new-generation mask, nanomasks, which directly use nano-sized plastic fibers and add a new source of nanoplastic pollution," the researchers wrote.
"However, no data on mask degradation in nature exists, so we simply do not know how masks contribute to the large number of plastic particles detected in the environment."
The research proposes a number of initiatives to help tackle the mounting problem.