News
Huge Copenhagen rapid test centre moves to city park
---
This article is more than 2 years old.
Capital region moves and expands COVID-19 test hub from outside Parken Stadiumto to a massive tent in Fælledparken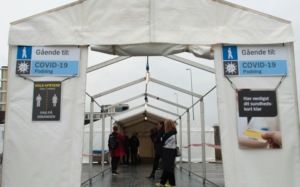 If you turned up outside Parken Stadium in Østerbro today to get a rapid test for COVID-19 ahead of the Easter break, you would have noticed that the centre was no longer there.
The good news is that it hasn't moved far away.
The city announced yesterday evening that it had moved it into the nearby park Fælledparken – and expanded its capacity.
The reason for the move is because the city is beginning preparations in and around Parken Stadium to host the summer's Euros.
READ ALSO: Reopening schedule: good news for schools, restaurants, malls and hairdressers; bad news for bars, gyms and travel
Open every day
The new test hub is located along Blegdamsvej and the entrances are at city hospital Rigshospitalet and at Trianglen. 
Parking is available on Øster Alle and the centre is open every day from 08:00 to 20:00.
Everyone over the age of 12 can turn up without an appointment and be rapid tested for free.
Test results will be received electronically via SMS or email.
Click here to find your closest COVID-19 testing centre in the Capital Region.