News
Inspired by their teachers and environment, thinking sustainably is their norm
---
This article is more than 2 years old.
Along every facet of their educational journey, the children at Copenhagen International School are exposed to the eternal loop of sensible resource usage and recycling. Theirs is a green mindset that will reshape the world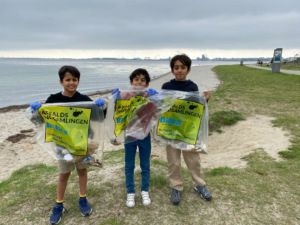 You've been recycling your plastic … that's good. You're producing less by shunning certain brands. Even better. Now … rummage through that bin and find a place for 10 percent of it in your home!"
This might sound like 'Mission Impossible' to many adults, but for the children at Copenhagen International School (CIS), this is their norm.
They'll find a way to lose the 10 percent because it's in their DNA.
There he goes: Go green!
Like most teachers in the history of mankind, Daniel D'Andrea has a nickname … psssst … they call him Mr Green.
"It's not a nickname I've ever promoted, but through school assemblies and my focus on sustainability matters, they've become familiar with my chant 'Go green' and often shout it at me," the sustainability teacher revealed. "It shows they're enthused, engaged and excited."
For D'Andrea, enthusiasm is key to nurturing citizens who will take their climate responsibility seriously: "It's a mindset that is encouraged from an early age, so they're immersed in the environment around them."
Part of the loop
Each grade at CIS has a sustainable focus in accordance with its vision statement and the UN Sustainable Development Goals.
It starts with 'Water for Life', followed by 'Reduce, reuse, recycle' (Grade 2), 'Biomes' (3), 'Renewables and non renewables' (4) etc.
"In 'Water for Life' we integrate how water is necessary for all plant and animal life, and then encourage students to implement what they've learned at home, like turning off the tap when they brush their teeth," explained D'Andrea.
"With 'Reduce, reuse, recycle', the kids are exposed to alternatives to the linear journey of taking natural resources, making something, and then throwing it away. Instead, with recycling, the journey continues to form a triangular loop."
For example, the children in the junior school take their food scraps to a 3,500 litre tank on campus in the knowledge that Glostrup Municipality will use them to produce methane gas to generate electricity or fertilisers.
"The kids witness this is a smart way to reuse what many would consider waste, and they appreciate how it comes back. It's awesome that they're part of the loop."
Triangles and trolls
D'Andrea isn't the only triangular thinker in the faculty, but for kindred spirit David Ferguson, an Australian who teaches design to the middle and senior school classes, the inspiration came from trolls.
Not long after arriving in Denmark, he visited the studio of local eco-activist sculptor Thomas Dambo, the creator of the famous trolls that populate green areas on the outskirts of Greater Copenhagen.
Inspired by the way Dambo creates sculptures using recycled wood, Ferguson runs his Design program to encourage students to think sustainably and upcycle.
"We look at the concept of treating waste as nutrition or source material for future products. Students as young as the sixth grade make toys out of discarded scrap material they've found on scavenger hunts around town," he enthused.
Of course, they're careful as they scavenge. As well as wearing gloves, they're warned about rummaging through anything that might belong to somebody homeless!
Upside of upcycling
Ferguson's students are currently building an installation out of the recyclable plastic they've sourced from their own homes. So already, before they start creating, they've been exposed to the decisions involved in creating the waste – and how much really gets recycled.
"It helps to reinforce the idea that recycling should be a last resort, as it's the lowest chink on the food chain in a sense," he said.
"We hope the next time they want to make anything – like a bookshelf or birdhouse – that instead of going to a shop to buy what they need, they'll instead look around their homes and local environment to source materials. Trash always has the potential to make something new and better. It's considerably cheaper too!"
Encouraging both creative thinking and skills is key, contends Ferguson.
"Our students will end up all over the world when they leave us, and hopefully they'll take that attitude: how can I affect my community?" he said.
"It can be overwhelming for a young boy to hear how they can save the planet. No, he can't, he's 10 years old, is the answer. But he can make an impact that will contribute to the bigger picture, starting in his household and local environment."
Key role of Denmark
Many students take part in the national cleanup week every April, and some even go collecting with their families, joyfully informing D'Andrea of their efforts the following Monday with a "Go green" and elbow bump.
"It's something the kids do because they want to. They understand that litter is not healthy for plants and animals and they want to help. They also think it's kind of cool," contended D'Andrea.
And there is no doubt the school's location plays a major role in helping the children to become aware of their footprint – and not just the stunning views from the solar-panelled walls over Øresund. Being in Denmark also plays a large role.
"It really helps that Denmark is one of the world's frontrunners in sustainable energy and renewable energy forms," said D'Andrea.
"Many will end up leaving the country, and they'll certainly be telling their friends and teachers about their time in Denmark where they saw so many solar panels and wind turbines."
Students in service
School counsellor Amanda Lopez concurs that Denmark is the ideal place to educate children about sustainability – and also her fellow Americans.
"It's been an education for myself too! I have seven trash cans in my apartment. I tell my mother, a retired science teacher living in Florida, and she is only able to have one … and no opportunity to recycle," she said.
Lopez mostly works with the influx of students who arrive to complete grades 10-12, and for those used to living outside Europe, the ethos of the school is an eye-opener – and one they quickly embrace.
From participating in climate marches during school hours, with the blessing of the school administrators, to undertaking ambitious pollution studies, some senior school students even mentor younger students. The students themselves created a platform to match up mentors with students, and some have even ended up mentoring kids from Danish schools.
Another recent student-led initiative involved a student making weighted toys for children to be distributed at refugee camps. The work involved a lot of sewing, which focused on reusing fabrics and materials, but an even bigger challenge, recalled Lopez, were the logistics of getting the toys to the intended recipients.
"We've held charity concerts and other fundraisers and now we're donating that money. That sounds great and it is great, but we want our students to think beyond donations as an act of service. We want our students to go through the hassle of investigating and identifying needs, along with the headaches of working through logistics and red tape. The idea is that the students learn how to identify real needs and take real action."
Nevertheless, helping the community is not always easy. The school is careful not to tread on anyone's toes by offering a service that might already be provided by a business or welfare. And often there's a limit on what can be done without fluency in Danish.
A measure of success
Too often, contends Lopez, people confuse monetary donations with voluntary service, but that's "not the level of service" CIS has in mind.
"We want students to recognise the authentic need for help and to get actively involved, who knows, this might entrench in them a calling – whether it ends up being their career or a life-long passion," she said.
"Ultimately, success isn't about making money or simply looking out for one's own, individual interests. Success is about taking care of each other and the health of our planet. Because if we don't, we're going to be in real trouble."