News
Sports Round-Up: Denmark practically already qualified for 2022 World Cup … statistically
---
This article is more than 2 years old.
Elsewhere, 2021 continues to be a huge cycling year for the Danes, Daniel Agger makes a comeback to football, and Patrice Evra reflects on his new life in Denmark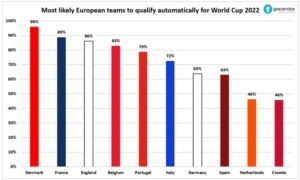 According to statistics firm Gracenote, Denmark is already practically assured of reaching the 2022 World Cup, despite only having played three qualification games.
Based on a million simulations, Gracenote found that the Danes have a 96 percent chance of qualifying for the tournament by winning their group.
The news comes in the wake of a fantastic Danish start to qualification – they beat Israel, Moldova and Austria by pouring in 14 goals and conceding none.
The 8-0 mauling of Moldova and 4-0 win in Vienna were particular delights. The games in Austria and Israel were two of their three toughest away fixtures.
READ ALSO: Six reasons Denmark will beat Austria tonight
Scotland up in September
The 96 percent mark is the highest among all European teams so far, with France (89 percent) coming second, followed by England (86), Belgium (83) and Portugal (79).
Italy, Germany (despite their mauling by North Macedonia), Spain, the Netherlands and Croatia completed the top 10.
According to the bookmakers, Denmark has about a 90 percent of qualifying – an 80 percent chance as group winners (at odds of 1/4) and an additional 10 percent should they enter a playoff.
Next up in the qualifiers, Denmark take on Scotland at home on September 1.
But before then, Euro 2021 will require attention this summer.
---
In Belgium kicking some As(green)
Kasper Asgreen secured one of the top results in Danish cycling history on April 4 when he won the Tour de Franders. The 26-year-old won a close sprint against Dutch powerhouse and race favourite Mathieu van der Poel to take the title. It's only the second time ever that a Dane has finished on top of the podium, with Rolf Sørensen managing the feat back in 1997. The Quick-Step rider has enjoyed a scintillating start to 2021, as he also won the E3 Saxo Bank Classic in late March.
Under-21s reach the knock-out stages
Denmark's under-21 side have reached the knockout stage of the Euros by beating Russia 3-0 in their final group game. The Danes had already beaten France (1-0) and Iceland (2-0) without conceding and therefore won their group ahead of the French. Next up will be a difficult task against Germany in the quarter-finals on May 31.
Jonas keeps spreading his wings
Jonas Vingegaard has continued his meteoric rise in cycling by winning the Italian stage race Settimana Internazionale Coppi e Bartali. The 24-year-old won two stages on his way to the title and ended up finishing ahead of countrymsn Mikkel Honoré in the overall standings. The Jumbo-Visma rider  started brightly in 2021, winning a stage of the UAE Tour in February. Meanwhile, Honoré's win on the final stage was the first win of his professional career.
Best major result in 20 years
Nanna Koerstz Madsen, 26, secured the best result for a Danish women's golfer in a major in two decades by finishing third at the ANA Inspiration tournament in California. That ties the best ever effort by a Danish woman at a major (of which there are five in the women's game), which occurred when Iben Tinning finished third at the Women's British Open in 2001. In related news, 21-year-old Karen Fredgaard finished third at the Augusta National Women's Amateur, just missing out on the playoff.
Tigers set another youth record
FC Nordsjælland continue to rewrite the record books by fielding young squads. When their game kicked off against AGF Aarhus on Sunday, FCN had an average age of 20 years and 20 days, the youngest in Superliga history. That breaks their own record from 26 August 2018, which stood at 20 years and 118 days. OB Odense has the record for the oldest squad ever fielded – 31 years and 30 days, which was set on 25 October 2003. 
Agger makes return to football
Five years after retiring as a player, former Denmark international Daniel Agger has announced he will make a comeback to the game this summer. The Liverpool legend will take on coaching responsibilities at First Division side HB Køge, where former Denmark right back Lars Jacobsen joins him as first-team coach. Between them, the pair have amassed 156 caps for Denmark.
Patrice Evra reflects on his new life in Denmark
BT has tracked down retired footballer Patrice Evra, formerly of Manchester United, Juventus and the national French side, who is these days living with his Danish girlfriend Margaux Alexandra in Copenhagen. The couple are expecting a child this month and plan to live here five to six months a year. Evra, who has started to learn "a little Danish" (see video below), has 7.3 million followes on Instagram where he is carving out a career as an influencer. "I have also learned not to stand on the bike path," he told the newspaper.