News
Danish invention to optimise COVID-19 doses
---
This article is more than 2 years old.
RobinTech has developed a method that can extract an extra dose out of Pfizer's COVID-19 vaccine every time a vial is used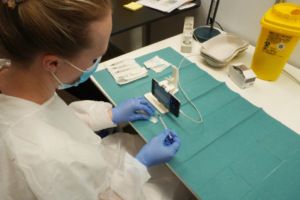 As Denmark enters into a key phase of its COVID-19 vaccination program, some good news has filtered through from the tech industry.
Dragør-based firm RobinTech has developed a new method that can optimise vaccine doses.
More specifically, it allows health workers to extract seven doses out of Pfizer's COVID-19 vaccine instead of six.
RobinTech estimates it will increase Denmark's COVID-19 vaccine capacity by 270,000 vaccinations for April and May alone.
The method employs a vaccine container, a syringe and a smartphone to enhance how the doses are drawn from the vials.
It does so by controlling the air intake in the vial, its angle during extraction, and from where the vaccine is drawn from.
READ ALSO: EU approves fourth COVID-19 vaccine
Could work for all vaccines
Currently, RobinTech is in negotiations with Statens Serum Institut and the Capital Region regarding the possibility of rolling out the method nationwide.
"When testing in the vaccination centres, they have not been able to get seven doses out of the vial at any point," Martin Vesterby, the head of RobinTech, told TV2 News.
"But the same people have managed to get seven doses every time with our solution."
Vesterby went on to say that the method has only been tried with the Pfizer vaccine, but in theory it could be used for all vaccines. 
It takes about an hour to train health personnel to use the method.