News
Sculpture of the Damned: Injunctions for two companies after latest death on Herning artwork
---
This article is more than 2 years old.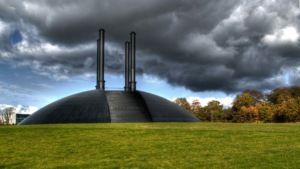 The Danish Working Authority has issued injunctions to two companies deemed responsible for not providing adequate protection to a repairman who died after becoming lodged in a pipe on the 'Elia' sculpture in mid-Jutland on March 23.
Specifically, the authority criticised the crane supplier Bo Nielsen and maintenance company Flias for using a 'Bosun's chair' – a sling seat often used in construction work – which they said was unsuitable for the task.
The 46-year-old Flias employee was stuck in the 32 metre-long tube for four and a half hours before he was extracted and pronounced dead at the scene in Birk near Herning.
Two previous accidents
This isn't the first time a death has occurred at the giant sculpture. In 2016, two people were killed in unrelated incidents, and a safety net was subsequently installed.
A 21-year-old man died after racing friends up the curved sides of the artwork and jumping over the railing at the top, which shields a central well-like cavity. The same year a woman committed suicide on the sculpture.
"Deeply affected"
The sculptor, Ingvar Cronhammar, has said he is "deeply affected" by the deaths.
Elia is equipped with four pillars and a gas burner that spews fire intermittently. HEART Museum of Modern Art writes: "One never knows when Elia is going to send out flames of up to 10 metres high. It's due to an automated program that sends out the flames at random intervals."
The gigantic steel structure, which is the largest in northern Europe, is named after Elijah, the Old Testament prophet who was taken to heaven in a chariot of fire.