News
Culture Round-Up: The day the music was revived
---
This article is more than 2 years old.
Elsewhere, it's bye-bye, Mr American Pie, but who will Mads get instead?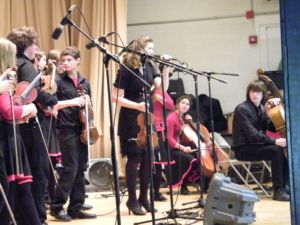 For many years, the music programs of the country's public schools have been steadily eroded – mainly due to a lack of funding.
Fewer have equipment or rooms dedicated to music, and teachers have become scarcer too.
How does 20 million sound?
The Culture Ministry is hoping 20 million kroner's worth of funding can help to bring music back to the nation's schools, along with other cultural endeavours such as theatre and the visual arts. 
It believes the pool, which is backed by a parliamentary majority of all the red bloc parties and will be included in the 2021-22 Finance Act, will enable more access and encourage more participation in artistic and creative activities. 
Funding will be conditional on the schools applying and collaborating with their local municipality. The first deadline is May 25. 
Must have the opportunity
"All children must have the opportunity to have an active and creative life with music and culture, and here the music and culture schools play an important role," enthused the culture minister, Joy Mogensen.
"This pool should give schools the opportunity to try out new approaches in relation to reaching some of the children and young people who have not tried and enjoyed being part of a creative community."
---
Headliners pull out of Copenhell
Judas Priest have confirmed they won't be performing at Copenhell this summer. The British band, who are often acknowledged as the pioneers of heavy metal, have postponed their entire summer tour until next year. So it is thought likely they will participate in the 2022 edition. For now, Copenhell still has Kiss, Korn and Mercyful Fate on its 2021 bill. The festival is scheduled to take place from June 16-19, corona-permitting of course. 
Mads Mikkelsen hit hard by Arnie Hammer allegations
Had Mads Mikkelsen been hoping that 'The Billion Dollar Spy' might prove to be the film that cements his Hollywood A List status, he was probably being unwise to ignore all the cannibalism rumours circulating Arnie Hammer, the actor he shared equal star billing with ahead of the production of the Cold War thriller. The rumours finally caught up with the star of 'The Social Network' last month and he has been dumped from the film by producers Walden Media. Mikkelsen, a beneficiary of a similar situation that resulted in Johnny Depp being dumped from the 'Fantastic Beasts' franchise, will be hoping his replacement is anyone other than Ryan Reynolds. But it probably will be … Ryan Reynolds. 
Sequel to super popular Danish resistance film confirmed
Anne-Grethe Bjarup Riis has confirmed she will be directing a sequel to her highly-acclaimed 2012 film 'Hvidsten gruppen', which concerned the heroics of a group of Danish resistance fighters in the east Jutland village of Hvidsten Kro during World War II. 'Hvidsten gruppen 2: De efterladte' will continue the story following the 1944 execution of most of the male members of the group to discover what happened to the female members left behind. Filming begins on April 12.
All the stars together, but different kind of stage
A new DR program, 'Den store premiere', teaches famous Danes how to act, preparing them for a role on the stage. Among them is one of the country's top swimmers,  Jeanette Ottesen, who has been fitting in rehearsals under the tutelage of Thure Lindhardt with her preparation for this summer's Olympics. Also taking part are former politician Manu Sareen, singer Dorthe Gerlach, and Caroline Wozniacki's brother Patrik, who DR generously described as first and foremost a former professional footballer. 
Young rapper on his way
US rapper Lil Tjay has confirmed he will be playing Amager Bio on November 9 as part of his Destined 2 Win album tour. The Bronx rapper is an emerging star on the US hip-hop scene. Tickets cost 370 kroner and are available from ticketmaster.dk from midday tomorrow.
Live classical concert next week
The band Trio con Brio have confirmed they will be streaming a live concert from Den Sorte Diamant on April 16 at 17:00. Viewable from the library's homepage or Facebook site, it will feature music by Sjostakovitj and Haydn.