News
Expert: Without J&J and AstraZeneca, we could be waiting until end of the year to fully vaccinate country
---
This article is more than 2 years old.
Results of US Drug Administration study of Johnson & Johnson vaccine will make or break our summer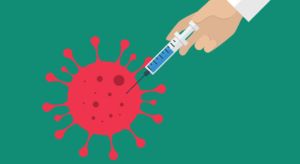 The Johnson & Johnson (J&J) vaccine, the one-jab saviour, is disappearing quicker than Andre Agassi's hair.
Yesterday its evaporation was rapid: first it was the US federal health and food authorities following reports it has caused blood clots among recipients, then the US government and the EU, and then the pharma company itself.
Like dominoes falling, heading towards the worst possible outcome: a continuation of restrictions, uncertainty and growing inequality between the 'vaccinated' and 'have nots'.
Cruelly, the first consignment was due to arrive tomorrow.
8.2 million jabs down the toilet
Without the J&J and AstraZeneca jabs, experts warn that Denmark's vaccination program might not be completed before the end of the year.
J&J accounted for 8.2 million of Denmark's vaccinations. Even better, only one jab is necessary to vaccinate. On its own, it could have covered the whole country … and Latvia. Its withdrawal was unthinkable.
But its departure leaves Denmark with only Pfizer and Moderna in its arsenal.
"We can get to the finish line with Pfizer and Moderna," Professor Jan Pravsgaard Christensen from the Department of Immunology and Microbiology at the University of Copenhagen told DR.
"But then I think we will not be completely vaccinated until the end of 2021."
Crucial assessment coming up
Six cases of blood clots have been recorded in the US among recipients of the J&J vaccine – all among women aged 18-48.
"We have reviewed the cases with the European health authorities, and we have chosen to postpone the rollout of the vaccine in Europe," confirmed J&J yesterday.
The US Drug Administration will now conduct studies to assess whether it is still safe to use the vaccine. 
Forget the festivals!
"It makes sense for Johnson & Johnson to wait for it to be fully evaluated in the US before rolling it out in Europe," continued Christensen, who believes the rest of the year could be bleak for most people in Denmark.
"You will still not be able to travel completely freely, go to festivals, go to the stadium and so on," he predicted.
"However, we are well on our way to getting everyone over 50 vaccinated. Then we have the vulnerable out of the equation, so more reopening will still be possible."