News
Transforming the world together: How Denmark and India's partnership is a blueprint for a cleaner future
---
This article is more than 2 years old.
Both Mette Frederiksen and Narendra Modi are vocal about the need for urgent change as the annually-held Raisina Dialogue conference begins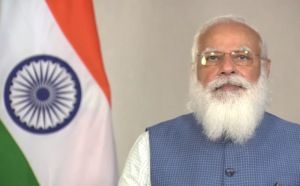 Mette Frederiksen and Narendra Modi, the prime ministers of Denmark and India, were among those to address a huge worldwide audience yesterday as the annually-held Raisina Dialogue conference began – online due to corona restrictions.
Organised by the Indian government every year, it is one of the world's premier conference on geopolitics and geoeconomics, each year setting out to address the most challenging issues facing the global community.
And this year has been no different so far, with both Frederiksen and Modi drawing attention to the urgent need to tackle both the coronavirus pandemic and climate change, whilst effecting real change in the green arena.
No longer a fairy-tale
Frederiksen talked of Denmark's transformation from a farming nation just a century ago into the green superpower it has become today. "It is not a fairy-tale, it is real," she said.
Citing Denmark's plans to produce a 10GW island in the North Sea, its current phasing out of coal, and its plans to stop drilling for oil and gas by 2050, she underlined that the world should wake up to the possibilities and invest heavily in "highly cost-effective" renewable energy. 
Frederiksen paid tribute to India and Denmark's recently signed Green Strategic Partnership, claiming that such collaborations, along with public-private enterprises, were essential to the green industrial revolution that both countries heavily back.
"If we combine Danish skills with Indian scale, we have the speed, scope and political will to shape a green transformation," she said.
"In the words of PM Modi, we must reform, transform and perform. We, the international community, must raise our ambitions to address climate change and negative impacts – particularly in vulnerable nations."
Walking the talk
In what was the conference's opening address, Modi was swift to remind listeners that India has 'walked the talk' when it comes to helping vulnerable nations by helping over 80 to get their hands on one of the two COVID-19 vaccines manufactured in his homeland – and not stopped the aid despite a recent rise in cases in India.
"We understand fully that mankind will not defeat the pandemic unless all of us, everywhere, regardless of the colour of our passports, come out of it. That is why, this year despite many constraints, we have supplied vaccines to over 80 countries," he said.
Modi was critical of the "under-prepared" world order set up in the aftermath of World War II, claiming the focus of new bodies such as the UN should not have been avoiding war, but instead alleviating hunger, poverty and humanitarian issues
"While humanity has not faced a Third World War, the threat of violence has not been reduced in people's lives. With a number of proxy wars and unending terror attacks, the prospect of violence is ever present," he said.
Frederiksen was one of a handful of world leaders he signalled out for praise.