News
Corona Round-Up: Gathering limits expected to rise ahead of negotiations continuing today
---
This article is more than 2 years old.
With more Pfizer doses on the way before June 30, Thursday has been an optimistic day following a woeful Wednesday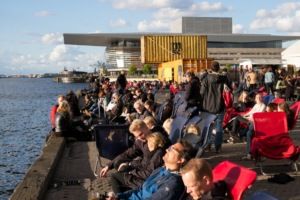 TV2 has come into possession of a parliamentary note that the government will raise the outdoor assembly limit from 10 to 20 people, and the indoor one from five to ten, on April 21.
And then from May 21, the limits will be raised to 25 and 50 respectively, while the limits for outdoor sports and association activities will be discontinued.
Once everybody in the country over the age of 50 is vaccinated, all of the limits will be discontinued, but there are no plans at present to permit large events.
Meanwhile, cross-party reopening negotiations will resume this afternoon.
---
Delivery of 650,000 Pfizer doses brought forward from December
Denmark can expect to receive an extra 650,000 doses of the Pfizer/BioNTech vaccine before the end of June thanks to a EU deal involving 50 million. The delivery, originally earmarked for the fourth quarter, has been pushed forward. It takes the total number of Q2 Pfizer/BioNTech vaccines being delivered to the EU to 250 million. The health minister, Magnus Heunicke, is excited that the delivery will help Denmark reach its goal of vaccinating all people over the age of 50 as quickly as possible – "an important milestone in the reopening agreement".
Statens Serum Institut in favour of lifting further reopening restrictions
Statens Serum Institut is expected to shortly publish a memorandum recommending more reopening measures. The lower number of hospitalisations, currently at 204, along with the modest daily infection rate (today's 663 are a 100 rise on yesterday), leaves plenty of more room to introduce a further lifting of the restrictions. More school reopenings and more access to indoor sports for children are thought to be among the SSI recommendations.
Professor: Expect Johnson & Johnson to be ditched
Professor Camilla Foged at the Department of Pharmacy at the University of Copenhagen expects Denmark to ditch the Johnson & Johnson vaccine in the same fashion as it permanently cut the AstraZeneca jab yesterday. "If we pause it in Denmark, I predict there will be a couple of weeks of waiting and then an announcement from the health authority that we will not use it. Unless, of course, we can predict who will get the side-effects, so we can prevent and treat it," she told DR. "We are getting wiser [in that department], but the question is how much we can deduce based on these American studies." Foged is optimistic about the forthcoming CureVac vaccine, which will probably be approved in early May or mid-June ahead of 300 million doses being produced by the end of 2021. 
Municipal employees happier than in 2019
Employees of Copenhagen Municipality are happy despite the disruption caused to their jobs by the coronavirus, according to a new survey. Out of a maximum score of 7.0, the average employee assessed their well-being and motivation to be 5.7. In fact, in 2019, the score was 5.6. In total, Copenhagen Municipality has just over 38,000 employees.
Czechs and Latvians interested in buying Denmark's AstraZeneca doses
Both the Czech Republic and Latvia have expressed an interest in acquiring Denmark's AstraZeneca doses. "We will contact Denmark to find out how to apply for these vaccines," the Latvian health minister, Daniels Pavluts, wrote on Twitter. "We are looking for vaccines all over the world. We are willing to buy AstraZeneca from Denmark," revealed the Czech Republic's minister of the interior, Jan Hamacek, also on Twitter.
December rules for restaurants and cafes when they reopen – plus passes
Restaurants and cafés will be required to close at 22:00 when they reopen on April 21. A distance of one metre between all diners must be observed, and corona passports will be necessary to dine – they should be presented at the point of first contact with the serving staff. Under-15s do not need passports. Otherwise the regulations closely resemble those in force until December's lockdown: masks are obligatory when standing; no drinking or eating whilst standing.