News
HC Andersen's House to open this summer
---
This article is more than 2 years old.
Ambitious museum project dedicated to the life of Denmark's most famous author set for 'soft opening' on June 30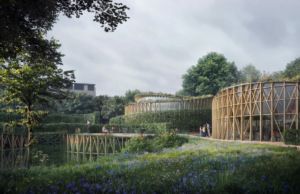 With the COVID-19 pandemic continuing to impact life, there will be an exciting new attraction available to all those spending the summer in Denmark.
The ambitious HC Andersen's House museum project in Odense, the famous author's birthplace, is set to open its doors for the first time on June 30.
The HC Andersen's House is among the most high-profile museum projects in recent years. It was made possible thanks to generous donations from, among others, the AP Møller Foundation and Odense Municipality.
"HC Andersen has to be our greatest poet. He captivates children and adults alike with his magical stories, which people all over the world can see themselves in – to this day," said Ane Mærsk Mc-Kinney Uggla, the head of the AP Møller Foundation.
"It is our hope that we, with the new museum, are approaching the core of HC Andersen's universe."
READ ALSO: World famous Copenhagen cherry tree blossom has begun
A wonderous universe 
The opening on June 30 will be a 'soft opening' due to some aspects of the museum having yet to be completed due to delays brought about by the COVID-19 situation.
In short, the public will be granted a sort of preview to the complete museum experience.
The museum consists of 5,600 sqm – two-thirds of which are underground and make up a wonderland universe for children, while outside is a magical labyrinth garden.
The attraction employs state-of-the-art technology and scenography to bring H C Andersen's universe alive (see photos below).
Read more about the impressive museum and guidelines to visit here (in English).