News
"It's safe to go home": Denmark strips residency permits of Syrian refugees
---
This article is more than 2 years old.
Denmark has revoked 94 residency permits of Syrian refugees and hundreds more are under review. The PM is aiming for "zero asylum seekers". How did we get here?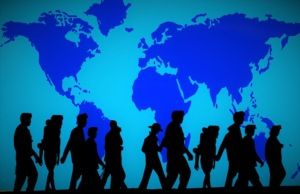 Denmark has become the first EU country to revoke the residency permits of Syrian refugees, insisting that the war-torn country is safe to return to. But all the while, its own embassy in Damascus remains closed "due to the current security situation".
Syrians say that returning isn't an option and rights groups have widely condemned the policy. Numerous recent reports outline ongoing war crimes, dire living conditions and civilian casualties.
Of the 34,000 refugees who have been granted asylum in Denmark since the war began in 2011, the majority will not have their residency reviewed. However, the revocation of 94 permits in March signals a dangerous drift in Danish politics towards anti-immigrant fanaticism.
"It's as if the Danish immigration services has bombed my dream, just as Bashar al-Assad bombed our homes," Asmaa al-Natour, who lives in Ringsted and whose residence permit is being withdrawn, told the New York Times.
So how did Denmark – the first country to sign the UN Refugee Convention in 1951 – swing so far-right on immigration policy?
An explosion of anti-migrant rhetoric
The past five years have seen a shift in the European rhetoric around asylum. Fearmongering election campaigns, using immigrants as bogeymen, propelled far-right parties into government in nearby European countries like Austria, Germany and Italy.
In 2018, Hilary Clinton declared: "Europe needs to get a handle on migration." It seemed everywhere that immigration – not inequality, government greed or ineptitude – was painted as the greatest threat to the populous.
In Denmark the narrative has followed the same arc. Though they have never been a part of government anti-immigrant party, Dansk Folkeparti, has "drawn other parties in their direction" wrote Michala Bendixen, the chair of Refugees Welcome in Denmark, in an op-ed for Politico.
"DF has spent the past two decades using its mandates for a single purpose: they only vote for bills concerning other issues if they get restrictions on foreigners in return."
Danish political attitude to migration hardens
2018 was also the year that Danish policy began to veer considerably to the right. Certain immigrant-dense zones were designated 'ghettos' and tough legislation for asylum-seekers and foreign residents was introduced.
According to Bendixen: "Children living in these areas would be compelled to attend daycare for 25 hours a week to ensure they learn the Danish language and values. Parents who take their kids back to their countries of origin for too long could face prison or deportation. Crimes committed in 'ghettos' would carry heavier sentences. Buildings would be demolished if necessary."
Ghalia al-Asseh, who fled Syria in 2015 and whose visa is under review, told the New York Times: "I am trying my best to fit in, to contribute to Danish society by educating myself, by paying my taxes. The stigma around refugees, in particular Muslims, has been so hurtful."
Draconian policy
Mattias Tesfaye, the Socialdemokratiet spokesperson for immigration and integration, was pleased with the developments: "We tried to negotiate this [policy] to be, you might say more draconian. We think the government has been soft on this," he said.
"We have made it clear to the Syrian refugees that their residence permits are temporary. They can be withdrawn if protection is no longer needed."
"The purpose is to make Denmark the last place to choose as an asylum-seeker" Bendixen told the New York Times.
"The only way to beat the right-wing here is to sell your soul to the devil"
In 2019, Socialdemocratiet leader Mette Frederiksen's pro-welfare, anti-immigration stance won her the prime ministership.
"The only way to beat the right-wing in Denmark is to sell your soul to the devil and be as tough on immigration in order to have support for social welfare policies in return," explained Per Mouritsen, an associate professor of political science at Aarhus University.
Later that year the government designated Damascus "no longer sufficiently dangerous to give grounds for international protection" as it reviewed 900 Syrian residency permits.
"They also overhauled the country's legal apparatus on immigration, shifting it from integration to the accelerated return of refugees to their native countries," reports the New York Times.
However, as Bendixen points out: "It's currently impossible to deport anyone back to Syria – Denmark won't negotiate with Assad – and very few Syrians are willing to return voluntarily. So those who lose their residency permits will likely end up in Danish camps awaiting deportation or in other European countries."
Prime Minister Frederiksen has vowed to go even further, saying that Denmark's goal is "zero asylum-seekers".
International outcry
A barrage of strongly-worded responses from the international community has condemned the Danish policy.
The Euro Med Human Rights Monitor is "gravely concerned".
"There are indisputable clear-cut conclusions of the UN that war-torn Syria is still witnessing war crimes, crimes against humanity and dire living conditions," it commented.
On April 8, Stéphane Dujarric, a spokesperson for the UN secretary-general António Guterres, responded with: "Our principled stand is that refugees should never be forced to go back. Any return should be their choice and it should be done in dignity and, of course, safety."
A statement from the United Nations High Commissioner for Refugees was equally resolute: "UNHCR does not consider the recent improvements in security in parts of Syria to be sufficiently fundamental, stable or durable to justify ending international protection for any group of refugees."
Highlighting the risks faced by returning refugees, a report by the Syrian Network for Human Rights details "the Syrian regime's detention or forcible disappearance of at least 37 Syrian citizens who have returned from Lebanon since January 2020 to date".
The report also notes looting at the borders: "The Syrian regime is denying citizens re-entry to their country unless they exchange 100 US dollars or its equivalent in foreign currencies."
"The Danish authorities did not respond to questions about why the policy was implemented for Syrians and how many had been sent to departure centres," according to the New York Times
Unsafe for civilians
Even given the Danish authorities' weak justifications, "the absence of fighting in some areas does not mean that people can go back safely," said Charlotte Slente of the Danish Refugee Council. Indeed, there's a wealth of evidence that Syria is unsafe for civilians.
In a recent UN Commission report investigating the ongoing "mass internment of men, women and children", Paolo Pinheiro of the Commission of Inquiry of Syria concluded that "it is no exaggeration to say that nearly all Syrians have been victims one way or another".
A country in ruins
"Syria is a country in ruins, with a collapsed economy and half of its prewar population displaced.  Al-Assad has reclaimed control of two-thirds of its territory, including the Damascus area," observed the New York Times.
Since the civil war erupted in 2011, the Syrian Observatory for Human Rights has recorded a death-toll of 387,118 – among them 116,911 civilians. This doesn't include 205,300 people who are missing and presumed dead, including 88,000 civilians believed to have died following torture in government-run prisons. The total number of Syrian war-victims is over 500,000.
In a 2020 report, the Violations Documentation Centre concluded that 75 percent of these deaths have been at the hands of the Syrian government, despite the multitude of other armed groups involved in the conflict.
According to the UN, as of January 2021: "13.4 million people inside Syria were in need of some form of humanitarian assistance – 6 million in acute need. More than 12 million were struggling to find enough food each day, and half a million children were chronically malnourished."
"I'm not a danger. I'm not a criminal. I just want to live here"
"As long as it is not peaceful and the president is still there, we don't want to return," Hussam Alkholi, a high school student living in Vestjylland, told the New York Times.
Syrian families affected by the Danish policy feel perplexed and threatened by the changes. "I'm not a danger. I'm not a criminal. I just want to live here," lamented Ghalia al-Asseh.
For asylum-seekers, and indeed the entire international community, the trend seen in Danish policy is deeply worrying. The government has undercut the notion of 'refuge' that it pledged to support back in 1951.
For those fleeing an uncertain future, Denmark has turned out to be an empty promise.