News
Distortion cancelled due to organisation difficulties associated with corona
---
This article is more than 2 years old.
Thomas Fleurquin blames corona restrictions for decision to completely scrap plans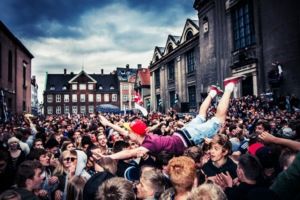 Distortion, which was due to take place during the first week of June, has been cancelled.
It is the third cancellation of the event following decisions not to hold the street festival last June and then in August after the first edition was postponed. 
"It feels unreal to have to cancel two years in a row. We are very sad for all of you wonderful guests and the artists and partners we work with," said Distortion founder and organiser Thomas Fleurquin.
"We will try to hold alternative open events in the urban space during the summer – but who knows what it may turn out to be."
High hopes for Karrusel
This time there has been no postponement of the main event, but an assurance that the organisers would do their best to realise their plans for a mini summer festival called Karrusel on Refshaleøen.
Karrusel, which was first staged in 2019, is expected to take place from August 26-28. For ticket information, visit karrusel.dk.
"On the other hand, we strongly expect that our smaller electronic music festival, Karrusel, can take place as planned in late August. Therefore, we have chosen to extend it by an extra day," added Fleurquin.
Corona pass and gathering limit hurdles
A press release explained that the festival would be too difficult to organise in light of the gathering limits and the need to check the corona passes of the participants.
Anyone who has purchased a ticket for this year's festival is entitled to a refund or to exchange it for a ticket for next year's event, which is scheduled to take place from 1-5 June 2022.
The first ever Distortion was held to raise awareness of In & Out, a Copenhagen Post supplement launched by Distortion founder and organiser Thomas Fleurquin in 1998.  
Distortion became a five-day festival in 2000, and Fleurquin went on to edit In & Out until 2008.
READ MORE: Who is … Distortion founder Thomas Dalvang Fleurquin?