News
Three Oscars within reach: Incredibly short odds that Denmark will wake up to a triple triumph
---
This article is more than 2 years old.
Country strongly tipped to take home Academy Awards for 'Best International Feature', 'Best Live Action Short' and 'Best Editing'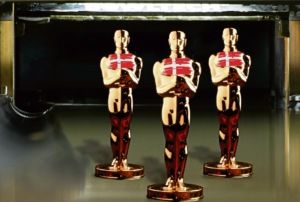 Denmark stands on the brink of history, but its media don't seem to understand how close the country is to achieving something incredibly special this coming Sunday evening at the Oscars.
They appear blinkered by two factors: 'Druk' ('Another Round'), which is grabbing 90 percent of the media coverage right now, and Danish journalists' inability in the field of probability. They tend to trust a handful of crusty experts (DR had a 'two out of three experts predict a win' story) over the bookmakers.
The truth, when the odds are correctly assessed, is that Denmark has a 13/5 chance of winning three statuettes on Sunday. Yes, three … 
On Monday morning, the country could be waking up to the most excessive Dannebrog-waving session since the national football team won Euro 1992.
A tasty treble
Let's start with 'Druk'. It is generally available at 1/7 to win, which means that if the Oscars were staged eight times, it would win seven of the statuettes.
Next up is 'The Letter Room' for 'Best Live Action Short'. Directed by Danish filmmaker Elvira Lind, it has a secret weapon on its side that has seen it cemented as the 4/6 favourite: main star 'Star Wars' actor Oscar Isaac, who just happens to be Lind's husband. 
The outsider of the three is Mikkel EG Nielsen, who is an even money shot to win the 'Best Editing' award for his work on 'Sound of Metal'. 
However, Nielsen is only the joint favourite, and some bookies have the editor from 'The Trial of the Chicago 7' slightly ahead in the betting.
The upshot is that a 1/7, 4/6 and Evens (decimal odds: 1.14, 1.66 & 2.0) treble will give you odds of 14/5 (3.8).  
Right up there with the best
It's true that Denmark has a lot to thank 'Druk' for. Should it triumph for 'Best International Feature' category, as is widely expected, it will take Denmark to fourth place on the all-time list of winners in that category. 
Only Italy (11), France (9) and Spain (4, but with more nominations) would stand above it.
And perhaps even more significantly, Denmark with four Oscars would tie Italy as the country that has won the most since 1987.
The country can take extra satisfaction by relegating Sweden, with three Oscars but more nominations, to fifth position. And this is no mean feat, as Sweden has received six Oscar nominations in the 'Best Director' category compared to Denmark's one: Thomas Vinterburg for 'Druk' this year.   
History beckons for Denmark
In total, discounting Viggo Mortensen's nominations and Lars von Trier's dubious nod for 'Best Song' alongside Björk in 2000, Denmark has been nominated 35 times and won 11 Oscars.
That total does not include the four nominations this year – the last being the nod for 'Best Director' for Vinterburg, for which he is 40/1 to win. 
And every single one of those wins has come in a different year, meaning this year could mark the first time in history that Denmark has won two Oscars on the same night … let alone three!