News
Science Round-up: World's largest snake arrives at Odense Zoo
---
This article is more than 2 years old.
Meanwhile, exactly when the huge reptile's ancestors made it out of the sea could be determined by a new University of Southern Denmark study that suggests algae evolved 600 million years earlier than previously thought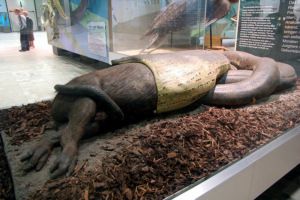 When the tropical house opens again on May 21, lucky visitors to Odense Zoo can catch a glimpse of the world's largest snake (see video below).
The green anaconda grows up to nine metres long and weighs up to 250 kilos – although Denmark's latest serpentine celebrity is a baby at just 4.5 metres and 70 kilos.
Snakes that eat jaguars!
In the wild, they lurk underwater, awaiting their unfortunate prey – larger animals like tapirs, capybaras and even jaguars – and often go up to 2 months between snacks.
Odense's resident anaconda will enjoy a lavish lifestyle of fortnightly meals.
---
University of Copenhagen develops new pesticide that targets only beetles
Pesticide is great for nuking unwanted weeds, fungi and insects, but it also impacts welcome visitors like bees, butterflies and friendly garden micro-organisms. Some evidence also suggests pesticides affect the developing brains of children. So, researchers at the University of Copenhagen have created an insecticide based on a hormone that targets only beetles. It stimulates their kidneys so that they urinate all the fluid out of the body, killing them instantly. Luckily, it doesn't affect children. "The discovery of new pesticides is important for conventional agriculture, but we have to be careful before we send new substances into the wild," explained Kai Bester, a professor of environmental chemistry. "There's still a long way to go before farmers can use this substance in their fields."
Study identifies which foreign oaks could survive in warmer Denmark
Researchers from the University of Copenhagen have studied over 100 oak trees from different countries and their ability to adapt to the Danish climate. It seems that oaks from North America, Korea and Japan have a better chance of surviving here than trees from southern Europe. "It's because the climate in southern Europe is drier and warmer than in Denmark, whereas some areas in North America, Korea and Japan more closely match our colder winters and wet summers," explained Anders Ræbild, a professor at the Department of Geosciences and Nature Management. "Trees are good at adapting to new conditions, as they have proven throughout Earth's history. But because climate change is going so fast, the trees can't keep up." Knowing the biological limits of trees, it's possible to move species from one country to another to help avoid a mass extinction, which would be disastrous for biodiversity and lead to further climate irregularities.
38 new initiatives lift Danish medical research to world-class standard
The government is launching 38 initiatives to boost development of, among other things, medicine, medical equipment, and health and welfare solutions. "With the corona crisis, it has become even clearer how important it is to have a life science industry and a world-class healthcare system," commented the minister of business and industry, Simon Kollerup. Magnus Heunicke, the health minister, was also pleased with the move: "I am confident that the life science strategy will benefit industry, healthcare and patients." The new initiatives were allocated 70 million kroner as part of the export package from December 2020.
"A dream come true": State-of-the-art Arctic research vessel gets green light
Construction is set to begin on a new Danish ocean-ready research ship after a cash injection of 50 million kroner from the AP Møller Foundation. That's in addition to a state investment of 170 million, and the Technical University of Denmark's own investment of 100 million. The vessel will support research in oceanography, marine geology, fisheries and climate, whilst aiding the study of ocean circulation. It will be built to withstand Arctic conditions and be powered by green propulsion technology. "Denmark, together with the other Arctic states, has a special responsibility to protect and ensure peaceful development in the Arctic region – for these ocean studies are crucial," explained DTU rector Anders Bjarklev. "With the new ship, Denmark can continue its more than 100-year-long tradition of marine research. It's a long-awaited dream that is coming true."
New types of enzymes can improve biomass degradation
In yet another win for DTU, environmental researchers from the Danish institution have discovered a new class of enzymes – catchily titled 'AA7 dehydrogenases' – which show 'great potential' in biomass degradation. Hype surrounds their ability to break down cellulose – the most widespread residual product from biomass in wood and waste from agriculture. "The new AA7 enzymes are able to accelerate the breakdown of the hardest components in biomass," said Maher Abou Hachem, a bioengineering professor at DTU. Conversion of biomass to fuel and other raw materials plays a key role in the transition to a sustainable bioeconomy. The new enzyme could make it more economically attractive to invest in processes where biomass is converted into a resource.
Rockstar enzyme scientist moves to DTU
Bernard Henrissat, a pioneering enzyme researcher with a portfolio of over 520 original peer-reviewed publications, is moving his research to DTU, where he will contribute to building a world-leading research centre. The Novo Nordisk Foundation has granted 8 million kroner to supporting the establishment of a research group at DTU Bioengineering with a focus on enzyme discoveries. Why all the fuss about enzymes? We've used them in baking and brewing for millennia, but modern enzyme science allows us to understand the mechanisms of micro-organisms and orchestrate bioprocesses on the most elemental level. Enzymes are being harnessed to develop everything from more effective medicines to healthier diets and a more sustainable climate.
Ribe, the 'archaeological goldmine', reveals more Viking secrets
A study of old-Norse metalworking and crafting, carried out at sites of uncommonly well-preserved Viking workshops in the Danish region of Ribe, has unearthed new information about ancient processes and techniques. "With metal crafts you can follow the whole story from the origin of the materials, how they are made and, in the case of Ribe, we can follow it over 150 years to learn how the craft changes," explained researcher Søren M Sindbæk. "We can see a big difference between the early 700s, when much of the metal is recycled – and the real Viking Age in the 800s, from when you have fresh and very precisely alloyed metal from Central Europe. That's when they developed more control over the raw materials," said Vana Orfanou, the lead author of the paper. "It helps us understand what happens culturally when the world begins to globalise in the Viking Age."
Rewriting the history of the sea
A study by the University of Southern Denmark has discovered that algae, which supports life by circulating carbon and nutrients in the ocean, evolved 600 million years earlier than previously thought. Researchers detected the ancient fossil remains of algae in 1.4 billion-year-old rocks from northern China. "This means that some marine ecosystems 1.4 billion years ago functioned in a way comparable to today's" said Don E Canfield, research leader at SDU. "With this discovery, we've rewritten the history of the sea."