News
Culture Round-Up: The insider's tips to winning an Oscar from double-winning Danish producer
---
This article is more than 2 years old.
The top tip is get your film noticed in America, and the second tip is make sure that Leonardo DiCaprio buys it, so he can option it and then change his mind in 18 months time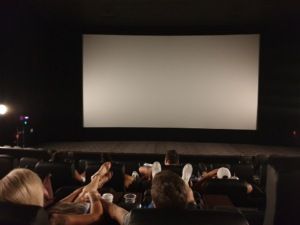 While the director of the 'Best International Feature' Oscar winner traditionally picks up the award, it's not theirs to keep. The Oscar belongs to the country, so technically it belongs to everyone associated with the film. 
Five Oscar nominees from 13 and counting
Often overlooked, therefore, are producers like Sisse Graum Jørgensen … sorry, make that two-time Oscar-winning producer Sisse Graum Jørgensen. In fact, the nomination of 'Druk' last year took the Zentropa producer's career tally to five noms out of 13 – an impressive 39 percent. 
The 48-year-old CBS graduate's first nomination was for Susanne Bier's 'After the Wedding' in 2007, and since then she has achieved four more: 'En kongelig affære', 'Jagten', 'Hævnen' and 'Druk', of which the latter two both won. So two from 13 … another impressive stat. 
Her next project will be a TV series with Thomas Vinterberg directing.
Make sure it's seen!
In a recent interview with DR, Jørgensen gave some insight into her success at getting Danish films noticed by Hollywood.
"It is absolutely crucial to have partnerships and networks if you want something out in the world, and make sure you get a partner in the US to build up an American audiences, so you can make it available to as many Academy members as possible," she said.
"Make the film digitally accessible and invest time and money in advertising and press coverage. Thomas [Vinterberg] and Mads [Mikkelsen] have done interviews several evenings a week. And they have participated in several digital screenings of the film with subsequent Q&As. In addition, Zentropa has advertised in trade magazines for the American film industry and made sure that the film was available early on in places like Amazon and Apple TV so that they could also use audience reviews in their work."
Sold to US, but not the best track record
In related news, the rights to make an English-language version of 'Druk' have been acquired by Leonardo DiCaprio's production company Appian Way and, according to Zentropa, the star owner will play the role made famous by Mads Mikkelsen.
"They seem very interested, and we have nodded yes to a so-called deal memo, which concerns the right to use the story and payment. We have also received their word that Leonardo DiCaprio will play Mads Mikkelsen's role," confirmed Zentropa chief executive Anders Kjærhauge.
Normally such an option will last for 18 months, and while several Danish films have been made into English-language versions – such as 'Nattevagten', 'Brødre' and 'Efter brylluppet' – plenty don't.
Among the other Danish films currently optioned are 'Jagtsæson' (German),  'Dronningen' (French), 'Den skyldige' (US) and 'Klovn The Movie' (US), while Zentropa is also involved in talks concerning 'Retfærdighedens ryttere' (US).
---
Boat and burger: sailing to Refshaleøen possible from May 1
From May 1, it will be possible to travel by boat to Refshaleøen, the island home of the street food complex Reffen, Distortion events and loads of other cultural activities. Sailing guests will be able to dock at the quayside thanks to an upgrade of the old B&W areas by Refshaleøens Ejendomsselskab. Vessels of up to 50 feet can dock. However, it won't be free. Boat owners will have to get a parking ticket via a meter set up by Apcoa, and parking will not be permitted from 24:00 until 10:00. Small vessels will be charged 35 kroner an hour, larger ones 50 kroner, rising to 200 and 400 kroner for the entire day.
Tivoli's pantomime stars to return to the stage this Bank Holiday Friday
Following a long enforced break, the performers are returning to Tivoli's pantomime theatre on Bank Holiday Friday – a chance for visitors to again enjoy the adventures of Rasmus Klump, who is incidentally turning 70 this year, along with the adventures of Pierrot and all his chums. Tivoli then plans to step up the schedule from June with the return of the HC Andersen ballet 'The Tinderbox', for which the queen provided both the scenery and costumes.
DR ups the ante with the ultimate 'Druk' Q&A: Let the carnage begin
"And what about Mads Mikkelsen and the other actors from the film, will they get more international roles?" DR asked in the introduction to its reader Q&A in response to the success of 'Druk'. Seriously! Mikkelsen might get more international roles … he'll need to clone himself. And the gems didn't stop there as DR journalist Maria Månsson and Lars Werge, the head of Danske Biografer, fielded more questions. "Why is the Oscars not broadcast live on Danish television? Especially considering that two Danes were nominated" was probably the worst question, as TV2 provides live coverage and there were four Danish nominations. "Which movies were 'Druk' up against?" was the laziest, followed by "Was it filmed in advance or was it broadcast live?"
The best beef sandwich in Denmark: steak, onions and tears
Restaurant Panorama Mad & Vin in Silkeborg has won the award for Denmark's Best Steak Sandwich of 2021. Owner Jesper Panorama Pedersen cried tears of joy, not because he had been peeling onions for the luscious creation, when he heard the news. 'Danmarks Bedste Bøfsandwich' is awarded annually by De Brune Riddere.
Danish actor's small role in hit Netflix show
Danish actor Simon Sears is among the cast for Netflix fantasy series 'Shadow and Bone', which is currently the most viewed choice among Danish-based viewers of Netflix. Sears, who is best known to Danish viewers for his work on 'Herrens Veje', plays Ivan, the right-hand man of Darkness. However, his part is negligible during the first season. 
Canadian-Danish artist mourned
CPH POST is sad to report the death of Danish-based artist and author Heather Spears who has passed away at the age of 86. Born in Canada, she moved to Denmark as a child, where she grew up on Bornholm. She wrote in English, and a collection of her poems won several awards in Canada. CPH POST first came across her artwork through her series of drawings of babies and premature babies at Rigshospitalet. She had four children – among them the painter Daniel Goldenberg. Her funeral will take place today at 13.30 at Hans Egede Kirke in Osterbro.
Arts minifestival announced at Ophelia Plads
A four-day festival of art, music and workshops presented by Roskilde Festival and The Royal Theater will take place at Ofelia Plads from 17 to 20 May. The scheduled events, revolving around activist and community-inspired artwork, are in celebration of British artist Martin Creed's light installation 'Understanding' which has been on show at Ofelia Plads for the past six months and concludes in May.