News
Svaneke becomes Denmark's first CO2-neutral brewery
---
This article is more than 2 years old.
Bornholm beer producer to celebrate impressive green milestone by marketing a … Game Changer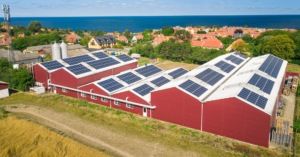 Svaneke Bryghus has announced that it has become the first brewery in Denmark to become CO2-neutral.
The Bornholm brewery, which also prides itself on being 100 percent organic since 2018, revealed that its CO2 neutrality has been verified by Force Technology.
"Today is a big day for the brewery. Svaneke Bryghus has been verified as the first brewery in Denmark to become CO2-neutral. This comes in the wake of several years of intense work on a sustainable transition," Svaneke wrote on Facebook.
A Game Changer
The road to CO2 neutrality started in earnest back in 2007 when Svaneke opened its current brewery. 
Its buildings run on sustainable energy: 35 percent from solar panels, while the remaining 65 percent is purchased from green-certified wind and solar energy sources.
In 2020 the brewery got rid of its oil burner and changed from natural gas to biofuel. 
And by the end of 2020, the brewery has installed a CO2-recycling facility so that it is capable of reusing any excess CO2 produced during the tapping process.
To celebrate the milestone, Svaneke has launched a new beer, 'Game Changer', which is available at nemlig.com.