News
Business Round Up: Minister condemns "greedy" Danske Bank for lowering its limit on negative interest-free accounts
---
This article is more than 2 years old.
In other news: 'sleazy' former mayor Frank Jensen has confirmed he is launching a business consultancy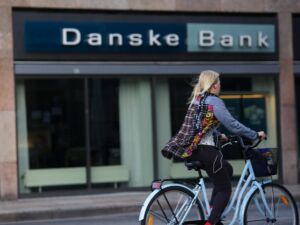 Since June last year, Danske Bank has been charging account holders with moderate savings a negative interest rate, gradually lowering the threshold over the months that followed to just 250,000 kroner.
And now news has emerged that account holders with savings in excess of 100,000 kroner will be obliged to pay a negative interest rate of -0.06 percent since July 1.
It's a move that is likely to be followed by other banks, and hundreds of thousands are expected to seek alternative ways of holding their money: shares, hedge funds, overseas accounts etc.
It has been long presumed that Danske Bank does not really care about losing private customers, but there is also bad news for its corporate clients, who will be slapped with a hike from -0.6 to between -0.75 and -1.0 percent per annum on business account deposits.
Time to "stop the spiral"
The minister of economic and business affairs, Simon Kollerup, condemned the changes.
"It's simply too greedy when the banks deliver large profits but still continue to impose negative interest rates on more and more Danes," he said.
"In the current situation Danish bank customers get no benefits."
Kollerup has accordingly promised to convene the banks' association Finans Denmark to assess how to "stop the spiral".
---
60m kroner 'Comeback Copenhagen' to rejuvenate Danish tourism
In February, the Ministry of Trade – in collaboration with Wonderful Copenhagen and a slew of Danish restaurant, hotel and transport businesses – launched the initiative 'Comeback Copenhagen' to reinstate the city as a global destination for sustainable tourism. 2020 saw a huge decline in international visitors, resulting in a loss of 28 billion kroner. Pre-pandemic tourism in Copenhagen alone generated annual tax revenues of 3.8 billion kroner. The 'Comeback Copenhagen' plan will tap the growing demand for sustainable tourism by focusing on green developments in the entertainment and travel sectors.
Former mayor of Copenhagen, Frank Jensen, launches consultancy
In October 2020, Frank Jensen resigned as lord mayor of Copenhagen after allegations of inappropriate behaviour surfaced during a #MeToo reckoning in Danish politics. Now he is starting a consultancy. "In recent months, I have had enough contracts and agreements to establish my own consulting company for both private and public companies," wrote Jensen on LinkedIn. "FrankJensenCph Consultant will deal with global goals, green transitions and development in the energy and supply sector. I look forward to getting started."
Denmark's National Organic Association scoops ecology prize
The National Organic Association (NOA) has been awarded the One World Award, which recognises excellence in ecological policy, green marketing drives and political work. "We are honoured to win this great award. We work every day for a world that thinks and acts organically – for the benefit of humans, animals and our earth," said Helle Borup Friberg, the head of the Organic National Association. The prize money of 175,000 kroner will help to support NOA's sustainable agriculture programs, green market development and climate and animal welfare commitments.
Danish museums saw 5.3 million fewer visitors in 2020
The number of visitors to museum exhibitions fell by more than a third in 2020 compared to the previous year. Of all cultural institutions, art museums and cultural history museums took the biggest hit with a decrease in visitors of 36 percent, while natural history museums saw a drop of 26 percent. The worst affected areas were Copenhagen and northern Zealand. The most visited venue in Denmark was the Louisiana Museum of Art, followed by Aarhus Art Museum and Den Gamle By – an open-air attraction in Aarhus centre.
DSV acquires Kuwait company in trade for 26 billion
The transport and logistics group DSV, Denmark's third largest company, has acquired Global Integrated Logistics from Kuwait in a deal work 26 billion kroner. Some 17,000 new employees will join the 56,000 at DSV. With the acquisition, the Danish company DSV Panalpina will become the world's third largest transport and logistics group. The transaction is expected to be completed in the third quarter of 2021. The acquisition is the latest in a long line that DSV has made over the years. DSV started in 1976 as an association of ten hauliers and has since become one of the world's largest groups in its industry.
Record in-store sales after lockdown lifted
Retail sales rocketed by 19.8 percent in March, the highest month-to-month jump ever according to figures from Statistics Denmark. "Retail sales have never progressed so much in the history of statistics. But it has to do with the fact that the shops were closed in January and February," said Nykredit economist Troels Kromand Danielsen. He estimates that the payment of frozen holiday pay was partly responsible for the boost in spending. Everything from electronics to homewares has seen an increase, while clothes sales have doubled. He expects sales in 2021 to reach pre-corona levels – and perhaps even higher.
New VAT rules and tools for EU e-commerce businesses
Measures are on the way to reduce red tape for EU import and export processes. New uniform VAT rules for e-commerce will take effect on 1 July, along with simple online VAT and import platforms on which businesses can declare and pay their VAT in the EU. The VAT One-Stop-Shop (OSS) and Import One-Stop Shop (IOSS) platforms will facilitate payments, create a uniform cross-border VAT regime for goods and services, and help to tackle the 'VAT Gap' – the difference between expected VAT revenues and actual VAT collected.