News
UEFA outlines strict restrictions for Euro 2020 games at Parken
---
This article is more than 2 years old.
Hand-shakes, hugs and high-fives will be banned, but the thrill of being there will outweigh all!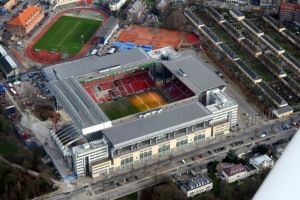 Danish fans probably never thought they'd get the chance to cheer on their football team in a major football tournament on home soil.
Watching them win just over the Øresund in Sweden to claim Euro 1992 was the closest they'd ever get, they must have thought.
So, the news that Euro 2020 would be co-hosted by upwards of ten different cities was an unexpected joy to many – and the eventual confirmation that Parken would host four games a chance to take part in history.
Getting a ticket has never been harder
Tickets acquired, they were all set, only to learn that the tournament had been postponed by a year. 
Now rearranged, only a fraction of the ticket-holders would get to see the matches, as only around 16,000 tickets are available for each game, of which many will end up being taken by the away team's supporters.
Current holders of tickets will find out their fate in a lottery once the exact number has been confirmed.
Selected few will feel like Charlie Bucket
So today's news that UEFA is demanding strict restrictions at the three home games against Finland, Belgium, and Russia on June 12, 17 and 21 will hardly put any of them off from attending. 
It's been expected during these corona times that we'll have to jump through a few hoops to enjoy ourselves. In this case, the rewards more than justify the means.
By the time the games come along, Parken stadium will be housing fans holding tickets considered more precious than the golden ones issued by Willie Wonka.
Special facemasks probably
For those lucky enough to be among the 16,000, their tickets will instruct them when (a 30-minute window) they should turn up at the stadium – in order to stagger the number of fans entering – with a valid corona pass. 
Once in, they must wear facemasks – and it is thought likely it will be a special kind chosen by UEFA. 
Fans will be seated 150 cm from one another and asked to maintain this distance at all times. Hand-shaking, hugs and high-fives are banned.
Can be tailored slightly
"The European Championship matches are basically based on UEFA's guidelines – also when it comes to the safety of fans at the stadium," explained Lene Kryger, the managing director for Euro2020 in Copenhagen, to BT.
"From there, it is up to the 11 host cities to adjust the guidelines so that they harmonise with the authorities' recommendations with full focus on safety and security for the fans and all other players in the stadium."
It is still unknown exactly how many Danish fans will be allowed to watch the games. Experts believe that a total of 15,900 fans can be catered to at the matches.