News
Danish ministers visit Rwanda to strengthen ties
---
This article is more than 2 years old.
The two countries, which have been growing closer in recent years and share several "common priorities", have agreed to collaborate on green technology and immigration policies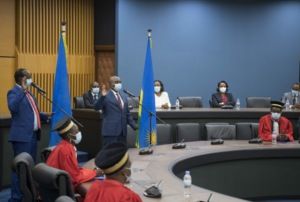 The minister of development, Flemming Møller Mortensen, and the immigration and integration minister, Mattias Tesfaye, are in Rwanda to build on bilateral relations between Denmark and the central African country.
The two countries, which have strengthened ties in recent years,  have landed on two new agreements: one to boost asylum and migration co-operation between Denmark and Rwanda, and another to increase political consultations on development.
While the agreements are not binding, they provide a framework for future co-operation that the two governments will use to identify more specific areas of focus.
Common priorities
"Rwanda and Denmark have a number of common priorities: the green agenda, the promotion of women's and human rights, access to solar energy, and job creation for young people. We are two small countries that are happy to lead by example," said Mortensen.
The Rwandan minister of state, Manasseh Nshuti, spoke of his admiration for Danish "strides" in technology – an ambition he said was shared by the African nation.
"Rwanda is working hard to develop their society after the terrible genocide against the Tutsis in 1994. For example, they have taken inspiring steps in helping the victims of human trafficking while also prioritising technology and the green transition," said Tesfaye.
"We think that deserves praise. That is why we are pleased with the collaboration we have already established and which we look forward to expanding."