News
Sports Round-Up: Third time lucky for Pernille Harder?
---
This article is more than 2 years old.
Christian Eriksen wasn't going to hang around at Tottenham to see if they could lose their third major final in seven years … and he's won the big one in Italy!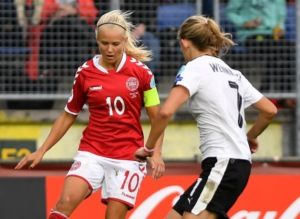 Following defeats in 2018 and 2020, Pernille Harder will be hoping it will be third time lucky in the Women's Champions League final on May 16 in Gothenburg.
And the good news is that her vanquisher on those occasions, the French powerhouse Lyon, won't be waiting for her and Chelsea. 
Another crucial Chelsea goal for Harder
Instead they will face Barcelona – and it took a titanic struggle against Bayern Munich on Sunday to get there. 
Trailing 2-1 on aggregate, Chelsea led by the same margin with extra time beckoning, but then Harder struck in the 84th minute with a powerful header to put the Blues ahead. 
A late counterattack in injury time, as the Bayern keeper pushed forward, then confirmed a 4-1 result and an overall 5-3 win.
Bleak outlook for Nadia, meanwhile
Nadia Nadim, meanwhile, was on the losing side as Barca beat Paris St Germain to advance. 
The loss pretty much signals an end to her season, as this summer's major tournament for women, the European Women's Championship, has been postponed until 2022 to avoid a clash with the men's equivalent, Euro 2020.
---
Eriksen justifies move from Tottenham with Serie A winner's medal
Christian Eriksen can add a Serie A winner's medal to his collection following last weekend's confirmation that Inter have won their first league since 2010. In doing so, Inter have denied Juventus their tenth Serie A in a row with four games to spare. Eriksen, who scored his second goal of the season on Saturday in a 2-0 win over Crotone, has played a pivotal role in the centre of a five-man midfield since January. On Saturday, though, he was on the bench, but scored his side's first goal just three minutes after coming on in the 66th minute.
Tabloid outs engineering group as designer of Qatar stadium
Danish engineering group Rambøll has been named as one of the designers of a stadium that will play a key role in hosting the 2022 World Cup in Qatar. Announced in controversial fashion by 'holier than thou' Ekstra Bladet (that rhymes if you say it with an affected Anglo accent), the story detailed how the Ahmed bin Ali Stadium (aka Al-Rayyan Stadium) will host seven games. Rambøll told the tabloid it won a tender to become the stadium's engineering consultant in 2012 and then went on to work on the "earliest phases of the project on the technical design of the stadium from 2013 to 2016".
Unique double for the 100-metre relay teams
Both the men's and women's 100-metre track relay teams have qualified for the Olympics following impressive performances at the 2021 World Athletics Relays event in the Polish city of Chorzów over the weekend. The Danish men, who set a new national record of 39.06 seconds in the heats to qualify ahead of the likes of France and Ukraine – a time that would have earned them silver in the final – finished fourth, while the women finished sixth. All of the finalists qualified for the Olympics. In the women's case, it will be their first appearance for 73 years, and it is believed to be the first time that both teams have qualified together.
Danish talent could play a key role in his Tour de France debut
Young Danish cyclist Jonas Vingegaard, 24, will compete for the Jumbo-Visma team in the Tour de France this summer – a race in which he is expected to focus on assisting captain Primoz Roglic, who led the 2020 tour entering the penultimate stage but ended up finishing second. Since making his Grand Tour debut in the Vuelta a España last year, Vingegaard has really kicked on, and he has already won three stages this year.  "I've always seen the Tour de France on television, so it's great to be selected for it. I am very pleased with my development because I have actually improved a lot," he said.
Badminton star catches corona and forfeits final
Danish badminton player Viktor Axelsen, the world number two, was forced to pull out of the European Championship final on Sunday after testing positive for coronavirus. He accordingly forfeited the game, handing Anders Antonsen, a fellow Dane, the title. Axelsen was dramatically stretchered away to a Kiev hotel room, where he will quarantine for the next two weeks. 
Young Dane breaks his duck in the NHL
Young Danish ice hockey player Joachim Blichfeld, 22, has scored his first NHL goal for the San Jose Sharks. A recent call-up from the AHL outfit in San Jose, Blichfeld's goal brought the score back to 3-5, but the Sharks eventually lost 3-6 to the Minnesota Wild.
Danish forward sidelined until playoffs
Winnipeg Jets forward Nikolaj Ehlers, 25, is injured, with his NHL side hoping he will be able to return for the playoff games later this month. It is believed Ehlers might have suffered a blow to the head during a fight against the Toronto Maple Leafs on Sunday. He has notched up 46 points from 47 games this season, placing him 18th on the NHL's top scorer list.