News
Denmark's first ever banknote sold for 170,000 kroner
---
This article is more than 2 years old.
It took at least 308 years to turn a 1-rigsdaler note into an extremely valuable collectable item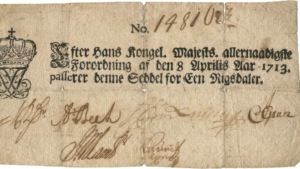 People say keep the small change, until pennies are worth the money. In the case of Denmark, it took at least 308 years to turn a 1-rigsdaler to an extremely valuable collectable item.
The first banknote in Danish history was sold for 170,000 kroner, on Monday evening according to a statement released by the auction house Bruuns Rasmussen in Copenhagen.
The figure came as a surprise as the banknote was previously estimated to be worth between 60,000-80,000 kroner.
′′It was the first time in Denmark that money no longer needed to be silver or gold, but could also be made in paper," said Michael Fornitz, chief numismatist at Bruuns Rasmusen.
READ ALSO: DNA testing sheds light on old Viking murder mystery
Printed for empty war coffers 
The note from 1713 holds valuable monetary historical significance. At closer inspection, the bank note is estimated to be in good condition, with clear signatures, both printed and handwritten value statements.
In 1713, Frederik IV issued Denmark's first bank note after the nation's involvement in the Great Nordic War against Sweden.
At that time, Denmark-Norway had only used silver coins as a form of exchange and needed extraordinary funds to cover the significant expenses of the war. Following the French model, Denmark decided to issue authorised and guaranteed paper money by the state.