News
Business Round-Up: Denmark spends over 60 million kroner on corona tests a day
---
This article is more than 2 years old.
A large amount of money, but it's necessary to open society – at least for now.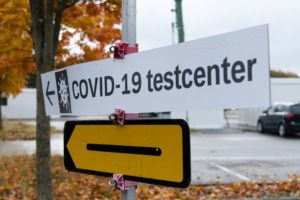 Almost half a million Danes are being tested a day – which is an expensive price tag for the government, reports DR.
It calculates that on average it costs more than 60 million kroner a day to carry out all the tests.
The average daily price was based on the period from 28 April to 3 May and the price of a PCR test being around 115 kroner and a quick test being around 150 kroner.
In control of the pandemic
"Testing is a really big reason why we have been in control of the epidemic. So there is good method in the madness," said Professor Lone Simonsen, an epidemiologist at Roskilde University. 
"When everyone over 50 – maybe even those in their 40s – has got vaccinated, then we have taken the sting out of this pandemic. Then we can start turning down all that test activity.''
No decrease in tests for now
The justice minister, Nick Hækkerup believes the regular testing is the condition for society to be as open as it is, so there will be no decrease in the number of tests right now. 
"Once we have vaccinated a much larger part of the population, in combination with the good weather, we will hopefully push the rate infection down, which will mean we won't have to test so much anymore," he said.
---
Danske Bank risks tax proceedings in the USA
More than 400 companies with accounts held at Danske Bank's scandal-ridden branch in Estonia were controlled by US taxpayers or companies, reports Berlingske. This increases suspicion that Danske Bank may have assisted with tax evasion and raises the possibility that the bank could face legal action in the US. Danske Bank is still being investigated in several countries.
Foreign trade back to pre-COVID-19 level
In March 2021, exports and imports of goods and services both increased by 4.6 percent – which means that foreign trade is back at the same level as before COVID-19. The increase in exports was particularly due to increases in the movement of machinery, maritime transport and chemicals (including pharmaceuticals). Pharmaceuticals, fuel and bunkering accounted for the lion's share of the imports.
New deal for Coop: new items and lower prices
Nordic Coop has an agreement with Carrefour that will give it access to the French supermarket giant's wide range of products. "Apart from standing out with unique products, access to such a big player as Carrefour can also provide access to advantageous purchasing prices," explained Mogens Bjerre, an expert in retail and associate professor at CBS, to BT. "It's going to help Coop pursue the discount portion of its strategy and be sharp on price." Coop's chains include Irma, Kvickly, Fakta, Coop 365 and the different Brugsen stores.
Hybrid and electric cars more popular
Every fourth passenger car sold in April was an electric or hybrid car, according to figures from Danmarks Statistik. "The supply is much bigger than just a year ago. In April this year, there were twice as many green cars to choose from compared to just a year ago," commented Thomas Møller Sørensen of Dansk Industri. Tax law changes make it more attractive to buy electric and hybrid cars, he added. In general, in April car sales fell by 11.8 percent compared to March. This decrease should be seen in the light of COVID-19 restrictions and tax changes over the past year – which lead to extraordinary fluctuations in car sales according to Danmarks Statistik.
Millions needed for the survival of local railways
Danske Regioner would like to see an annual investment of 124 million kroner to ensure the survival of the local railways until 2026. The local railways are crucial lifebloods, the municipality organisation argues, but they risk being worn down completely. Danske Regioner is trying to put pressure on the government and other parties to raise money for the local railways. A financial solution must be found before the end of June in order to keep the trains running.
Highest increase in annual month consumer price since October 2017
In April 2021, the total consumer price index increased by 1.5 percent compared to the same month last year according to Danmarks Statistik. This is the highest annual increase in the consumer price index since October 2017 – when the annual increase was also 1.5 percent. The consumer price index measures the average change in prices over time that consumers pay for goods and services. In April price changes within food, non-alcoholic beverages and transport led to an increase, but especially meat, petrol and diesel pulled up the consumer price index. 
Sales drop for Lundbeck, but still a higher profit
In the first three months of the year, the pharmaceutical company Lundbeck experienced a decrease in revenue compared to last year. At the beginning of the coronavirus, Lundbeck's sales increased because customers hoarded extra medicine. But that didn't happen this year and, combined with a weekend dollar in the US, revenues dropped. But even with the lower revenue, Lundbeck's profit has more than doubled this year. This is partly due to Lundbeck spending less money on research and development in the first three months of this year compared to the year before.