News
Copenhagen 2021 – still happening, but a downscaled version
---
This article is more than 2 years old.
The major LGBTI+ event will be different from normal. There will be no WorldPride Parade or crowded areas this year, with activist-led 'Protest Walks' and smaller venues favoured instead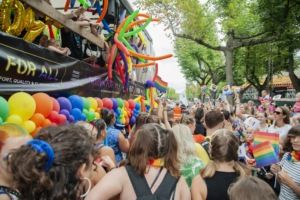 The organisers of Copenhagen 2021 have had to rethink their events after the recently announced extended restrictions for August, but are now ready with a new plan full of changes  – with a new version of the always popular WorldPride Parade.
"Despite the fact that we are downscaling a number of events, we are happy that we have not had to cancel anything completely," explained Benjamin Hansen, the CEO of Copenhagen 2021.
The 11-day LGBTI+ event consisting of WorldPride and EuroGames in Malmö and Copenhagen was expected to attract up to 1 million visitors, but with the new changes and international travel restrictions, far fewer people are expected. 
No WorldPride parade, but 'Protest Walks'
This year there will be no parade cars, glitter and unabandoned dancing on the streets during the WorldPride Parade – the highlight of the festival. 
The kilometre-long party parade is cancelled in its original form, but will be replaced by a series of activist-led 'Protest Walks'. These activist walks will take place several times during the event.
With only a maximum of 100 participants for each walk, this will be much smaller than the WorldPride parade.
The WorldPride stage by Copenhagen's City Hall will also be replaced. In a viewing area, 5,000 seated guests will be able to enjoy live-streamed concerts from smaller, indoor concert venues.
Across the city, the event will have several smaller spaces where up to 500 people can gather. 
Fewer alterations in Malmö
The events in Malmö are not covered by the changes.
The organisers are still waiting for a number of decisions from the Swedish government, but several events in Malmö have already been moved to alternative venues.
Also, the EuroGames sports tournaments are mostly unaffected by the new restrictions. More than 1,000 athletes have now signed up to participate in the 29 sports on display.