News
Government to establish deportation centre for foreign criminals on island
---
This article is more than 2 years old.
The Holmegaard centre on Langeland will be ready in a year and is located 20km from the nearest town of over 1,000 residents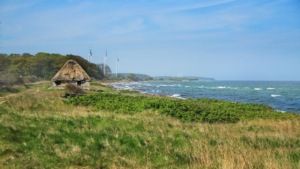 At a press conference this morning, the government announced it will establish a centre for foreign criminals who are awaiting deportation from Denmark.
Situated in Holmegaard on the southern tip of the island of Langeland, the centre will be ready in a year and be situated 20km from the nearest town of over 1,000 residents
The individuals who will stay at the centre have been designated as being expelled from Denmark due to crime or being a state security risk.
"We are working on tightening the rules for this group. Among other things, the government is working on toughening the punishment for certain individuals awaiting deportation if they commit new crimes," said the integration and immigration minister, Mattias Tesfaye.
Currently, there are 130 individuals who fulfill the criteria to be detained in the centre. 
READ ALSO: Danish parties seek greater powers to extradite criminal foreigners
Mayor majorly upset
However, Tonni Hansen, the mayor of Langeland, is far less enthusiastic about the government's plans.
"It's a load of crap and a completely wrong placement. It's not a wise decision or one that I support," he told TV2 News.
"You export the problems directly into a tourism area."
Hansen himself proposed the island as a destination for a centre in 2019, but he maintains that at the time the centre being discussed was meant to house families, not criminals.
The previous Blue Bloc government's plans to accommodate failed asylum-seekers on the uninhabited island of Lindholm, which is located between southern Zealand and the isle of Møn, were vetoed by Mette Frederiksen's government shortly after they came to power in June 2019.
Political commentators might remember that Frederiksen got married on Møn last year, and that she actually has a summerhouse there!