News
Danish company wins 100 million kroner Californian water-supply project
---
This article is more than 2 years old.
The Golden State's colossal interconnected water-system serves over 30 million people and is the world's largest and most productive – but it's notoriously unreliable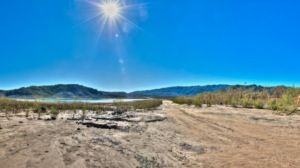 Danish engineering consultancy Rambøll has won a five-year project to make the water supply in drought-stricken California more sustainable.
In partnership with Aarhus University, geophysical surveyors SkyTEM and an American partner, Rambøll will map the groundwater in an area of California one and a half times larger than Denmark.
Since 2016 the Water Technology Alliance (WTA) – made up of the Foreign Ministry, the Environment Ministry, 3Vand and a number of Danish companies – has worked to promote Danish water technology and expertise internationally.
The Californian contract is their largest success-story to date. "It is a very exciting and relevant project that we are really proud to have won," said Søren Hvilshøj, the head of Rambøll's water resources advisory unit.
America's green wave
"California is a modern society but a secure water supply can't be guaranteed, so our store-knowledge and experience of geophysics and groundwater conditions is invaluable," said Hvilshøj.
Now that President Joe Biden's environmental policies have re-established the US climate agenda, Danish companies – as some of the world's greatest green innovators – have the chance to influence the sustainable shift in America.
"Danish companies are experts in sustainable development and water solutions. We can use that knowledge around the world, where it makes a green difference," said the environment minister, Lea Wermelin.