News
Business Round-up: Economy dips by 1.3 percent in first quarter
---
This article is more than 2 years old.
In other news, no slow-down on climbing house prices and trading – but homeowners beware: the cost of masons, roofers and carpenters has skyrocketed, too.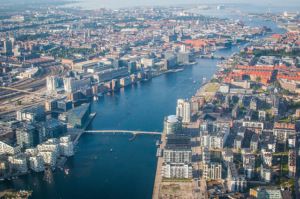 Denmark's GDP fell by 1.3 percent over the first quarter of 2021. It was a sharper decline than the EU as a whole, which saw a 0.4 percent drop.
The report stressed that a 4.9 percent reduction in private consumption due to pandemic-related shutdowns was particularly to blame for the overall decline.
With the exception of food, housing, electricity and fuel, the decline affected all consumption groups across a broad spectrum, including clothing, home and leisure equipment and services.
Foreign trade is up, employment is down
However, foreign trade grew over the first quarter with exports rising by 6.1 percent.
That's due to an 10.6 percent increase in the export of goods following strong growth in industrial production. Exports of services fell by 1.1 percent. Imports increased by a total of 1.6 percent.
Finally there was a decline in employment of 0.7 percent – equivalent to 20,400 people.
---
House prices continued to climb in the first quarter
Housing prices rose across the nation over the first quarter of 2021. Summerhouse prices increased by 4.5 percent, while there was a 3.6 percent rise for single-household family homes, and 3.2 percent for apartments. Trading activity also increased. For holiday homes there was a rise of 32.5 percent – bringing the figure to almost double that of the same time last year. Both family home and apartment trades increased by around 9 percent. Housing prices have been increasing almost constantly since 2012.
Artisan craftsmen raise their rates
The cost of roofing, masonry and carpentry services has risen markedly over the past five years in comparison to the wider services industry. The cost of masonry work has seen the largest jump with a rise of 16 percent – twice the price increase seen in the general services industry. Masonry and carpentry followed with rises of 14 and 12 percent respectively. The smallest price increases were seen by electrical installers and building completion work, albeit at 10 percent.
Struggling Post Danmark has national post contract extended
The government has agreed to apply for a temporary extension to Post Danmark's contract to handle its nationwide universal service obligations up to and including 2022. It follows long-term political negotiations concerning a new permanent postal agreement in response to the decline in paper mail and the rise in e-commerce. Post Danmark's universal service system annually makes a loss and depend on state support. The EU Commission is examining the basis for universal service support and further negotiations concerning a new postal agreement have been postponed until the commission's inquiry is completed.
German retail group acquires Magasin du Nord
The 153-year-old Magasin du Nord brand has been sold to the German retail group Peek & Cloppenburg. The Danish department store chain was previously owned by the debt-stricken British company Debenhams. The new German owner is a family-run company and has 140 stores in 15 countries. Magasin currently has seven stores: in Copenhagen, Lyngby, Rødovre, Amager, Odense, Aarhus and Aalborg.
Rumours fly as aviation media reports Bella Center is for sale
One of Copenhagen's largest conference facilities, Bella Center in Ørestad, may be about to change hands. The company behind the centre, BC Hospitality Group, is looking for a new owner, reports the aviation media Standby. "I can neither confirm nor deny that," said David Otherby, the chair of the board. The wealthy Fiyaz family, who have previously invested in Magasin and Illum, are potential buyers, according to the company register. The Fiyazs also own the 120 million dollar yacht Ecstasea, which is anchored in Monaco.