News
Culture Round-Up: Ordinary everyday hero Danes to appear on range of stamps
---
This article is more than 2 years old.
The way Radio4 are going on, you'd think they'd want the same honour for their groundbreaking journo Louise Fischer, but not everyone is impressed with her having sex with a swinger she was interviewing. One show's guest line-up all concluded it was all a media stunt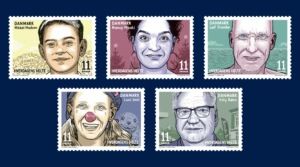 Five regular Danes have won a nationwide contest to appear on a range of stamps.
Portraits of the winners will appear on PostNord's 'hverdagens helte' (everyday heroes) range, which is hitting the streets on September 16.
The five were chosen from thousands of nominees suggested by the public: one from each region of the country.
Different kinds of heroism
The youngest is 10-year-old Mikkel Madsen (Southern Denmark), who raised 128,000 kroner for children affected by corona by collecting pant (refundable bottles and cans).
The bravest is Leif Fremke (Capital Region), who saved a five-year-old girl from drowning in treacherous waters in 2019.
And the most festive is Nancy Maati (Zealand), who organises an annual Christmas party for the less fortunate in Holbæk – remarkable as she is in fact a Muslim.
---
Roskilde's summer program selling out fast!
The Roskilde Festival might have been cancelled, but it will still be entertaining the masses. Its event series 'Summer Days' will be staged over eight days from June 24-27 and July 1-4, combining music, street art, activism and performance with a focus on "young voices and attitudes" at the festival site in Roskilde, according to the program manager, Anders Wahrén. Three concerts are planned on every one of the eight days: 27 acts will be performing in total. Hip-hop veterans Suspekt and rap acts such as Tessa and Branco on the line-up. For the June concerts, crowds will be split up into groups of 200 in adherence with the restrictions, and in July into groups of 500. Tickets cost 425-495 kroner and are available at roskil.de/tickets, but they are quickly selling out.
Disapproval for decision to have sex during interview with swinger
A number of different personalities from the Danish media world have criticised the decision of  Radio4, a publicly-funded radio station, to broadcast an interview in a swinger's club while the two participants had sexual intercourse. One of the personalities was Poul Madsen, the former editor of Ekstra Bladet who spent much of his career fending off questions about sex worker adverts on his pages, but even he felt that 26-year-old reporter Louise Fischer went too far when she decided to have sex with a relative stranger. "I would say no thank you [if I was the editor]," he told 'Go' morgen Danmark on TV2. "If you have to cross the line where the journalist has to get involved in the story personally, it has to be because you get something out of it that you would not otherwise have gotten out of it." Appearing on the same program, culture journalist Aminata Corr concurred she didn't really need to have sex with him: "If she had stood next to him and asked about the same thing, I'm sure he would have answered the same thing." While lifestyle presenter Bubber, who has visited swinger clubs to make reports before, said he felt Fischer misfired with her interview and lost her integrity along the way: "It is similar to seeing Rasmus Tantholdt standing in the Gaza Strip and suddenly throwing stones over the fence!" However, Radio4 head Anne-Marie Dohm has denied the interview was a media stunt to attract listeners. "It is a well-known journalistic discipline that you yourself participate in what you do journalism about: whether it's parachuting with some soldiers, or whatever it is," she said. "There is not even anyone in the report who does something dangerous or something they do not want to do."
Braveheart vs Brexit: DR unveils plans for community parties during Euros
DR has the rights to show 32 of the 51 matches of Euro 2020, and it has confirmed it will be encouraging the country to hold 'Fantastic Football Parties' within their own local communities, where people can congregate and celebrate, with a hint that more than a few venues favoured by expats might get a visit from the TV cameras. With 11 different hosts this year, the tournament offers a unique opportunity to delve deeper into the history stories behind certain clashes. "We believe the battle between England and Scotland will be even more interesting if one gets to scratch the two countries' centuries-old common history up from Braveheart to Brexit," noted DR News executive Anders Kern Boje. In some cases, it will be possible to apply for funding to cover the costs – of "national team jerseys, footballs and pennants", for example (find out more via dr.dk/fantastiskefodboldfester). While NENT has the Danish TV rights to stream all the games, the DRTV coverage will be available in most European countries, but not the UK. 
BT to close down its Sunday edition
BT is discontinuing its Sunday newspaper, instead choosing to expand its Saturday edition. While the tabloid newspaper concedes it will help to reduce the cost of its newspaper production, it believes a weekend edition will help it to "keep up with the times", said editor-in-chief Michael Dyrby, according to DR.
Aussie stand-up sensation to visit Denmark next year
Australian stand-up Hannah Gadsby is bringing her 'Body of Work' tour to Denmark early next year. To get a good impression of her comedy, watch her Netflix special 'Nanette'. After performing in Aalborg, she will perform at DR Koncerthuset on February 12. Tickets go on sale from 10:00 on June 4 at allthingslive.dk. In related news, opera star Andrea Bocelli is bringing his 'Believe' World Tour to Royal Arena on April 3 (Jyske Bank Boxen on April 1), and electro pop pioneer Gary Numan is playing at Amager Bio on May 29 (Train in Aarhus on May 27).
Scaled-down version for Passage Festival
The annual Passage Festival held a scaled-down edition over the weekend that mostly consisted of a program of street theatre near the walls of Marienlyst Castle. Traditionally held in the Danish and Swedish towns of Helsingør and Helsingborgs, the organisers elected to go for an all-Danish affair of performances, activities and family experiences.