News
World reacts as Denmark passes law to process asylum-seekers outside Europe
---
This article is more than 2 years old.
Rwanda speculated to be the 'third country' where applicants will be sent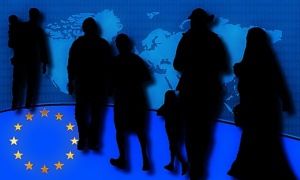 On Thursday the whole world reacted as Denmark passed a law that enables the country to send asylum-seekers outside Europe while they are under review.
The law was passed with 70 lawmakers in favour, and only 24 against, and it makes Denmark the first country to pass such a law.
It drew criticism from the United Nations and the Danish Refugee Council.
"The idea to externalise the responsibility of processing asylum seekers' asylum claims is both irresponsible and lacking in solidarity," stated its general secretary Charlotte Slente.
A contradiction?
The European Commission questions whether the new law contradicts Denmark's international obligations.
"External processing of asylum claims raises fundamental questions about both the access to asylum procedures and effective access to protection," the Commission spokesperson Adalbert Jahnz told Reuters.
Henrik M Nordentoft, the Nordic and Baltic countries representative at the UN refugee agency, UNHCR, warned last month that the bill could encourage a "race to the bottom" where "other countries in Europe and the surrounding areas will also explore the possibilities of limiting the protection of refugees in their own territory".
Tightened policies
In recent years, Denmark has become infamously known for its harsh immigration policies. The country has only accepted refugees according to the EU quotas.
With this law, Denmark will be able to move asylum-seekers to asylum centres in a third country. They will also be able to access protection in that third country.
"If you apply for asylum in Denmark, you know that you will be sent back to a country outside Europe, and therefore we hope that people will stop seeking asylum in Denmark," the government's immigration speaker, Rasmus Stoklund, told DR on Thursday.
Syrian signs
Just recently, Denmark became the first country to tell its Syrian refugees they no longer had the right to permanent residency.
The government claims that the capital Damascus, where the dictator Bashir Al Assad has recently been re-elected, is safe to return to.
Rwanda rumours
Although The third country has not been decided yet, it is thought it could be Rwanda.
Last April, the immigration and integration minister, Mattias Tesfaye travelled to Rwanda to sign a disclosed agreement. The visit was not officially announced by Copenhagen, but the Rwandan government stated that it was part of a "bilateral co-operation".
But Tesfaye stated that Denmark was in talks with Rwanda to operate a UN refugee camp in the central african country to facilitate refugees that remain stuck in Libya.
Denmark handled 756 asylum applications last year, according to Danmarks Statistik.