News
Local Round-Up: Copenhageners still feel safe despite rising crime figures in selected districts
---
This article is more than 2 years old.
Most Copenhageners feel safer than ever, but in five districts the insecurity level has increased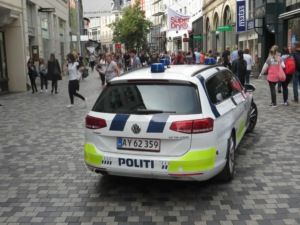 More and more citizens in Copenhagen generally feel safer than last year, but the insecurity level has increased over the last year in five neighbourhoods, according to an annual survey carried out by Copenhagen Municipality. 
"Many people experience that Copenhagen is a safe and nice city to live in, which is good! But we are certainly not at the goal," said Copenhagen Mayor Lars Weiss.
Insecurity feeling has increased
In five out of 13 districts – Brønshøj-Husum, Christianshavn, Indre Nørrebro, Vanløse and Vesterbro – the insecurity level has increased from 2020 to 2021. 
The City of Copenhagen had a goal that no district should have more than a 10 percent insecurity level among citizens in 2021.
In Brønshøj-Husum (16 percent), Ydre Nørrebro (11) and Indre Nørrebro (11), the level is higher, along with Bispebjerg, although its percentage is the same as last year.
"We must continue to work hard to make the city safer in the coming years in close co-operation with the police and the many good local forces," added Weiss. 
"It must be safe for everyone to live in Copenhagen – regardless of which district you live in."
Property crimes at lowest level in 10 years
The survey also reveals that there have been fewer burglaries, less violence, a decrease in pickpocketing and a feeling of greater security among most Copenhageners. 
The property crime rate in 2020 was at its lowest level in 10 years. However, this is mostly due to COVID-19, as most Copenhageners have been more at home far more than in previous years.
---
Nyt Hospital Herlev officially opened
On Wednesday 2 June, Crown Princess Mary officially opened the new emergency department at Herlev and Gentofte Hospital: the 'Nyt Hospital Herlev'. The two new buildings have a completely new emergency room, intensive care unit, delivery room and almost 300 large single-bed rooms. There is also a Woman-Child Center, where special rooms have been set up for premature babies with space for the family. The hospital opens its doors for patients on 20 June. 
Fewer daycare institutions in Copenhagen need to make quality changes
The number of daycare institutions where a professional action plan has to be implemented after the annual inspection has decreased, according to a new report on the quality of daycare in Copenhagen. In 2018, 41 daycare institutions had to make necessary quality changes. In 2020, this number fell to 12. The children and youth mayor, Jesper Christensen, calls it a "very gratifying development", adding: "It is a difficult and complex task to turn direction at a challenged institution. But thanks to the great and dedicated efforts of managers, employees and parents, quality has been raised in most places where it has been needed."
Petter Stordalen opens new hotel in Copenhagen
Even though Norwegian travel and hotel king Petter Stordalen has lost a lot of money during the corona crisis, he's up for a new challenge. Just before the whole world shut down he bought the travel company Spies, and he also opened the hotel Villa Copenhagen in the middle of the pandemic. Now, he is opening his latest billion-dollar investment: a conference and congress hotel with 600 rooms and a view of Copenhagen Airport. 
The summer season in the harbor has started
Up for refreshment during the hot summer days? You can now go for a swim in the harbour! The City of Copenhagen opened the harbour baths last week – just in time for a hot weekend when temperatures soared past 25 degrees. In total there are ten bathing sites in the Port of Copenhagen: three harbour baths with trained lifeguards and seven unmanned bathing zones and dipping zones. Find out here where the bathing sites are located.
Working out in Tivoli outside opening hours
From June 20 to August 15, Tivoli is open outside opening hours for yoga and running. In collaboration with DoYoga there will be morning yoga on the grass lawn, and every Sunday you can go for a 4-6 km run with running club Sparta. The run starts and ends at the Pantomime Theater, but the route will differ from time to time.