News
New campaign uses Vikings to make you wear a helmet
---
This article is more than 2 years old.
More cyclists should wear a helmet according to Rådet for Sikker Trafik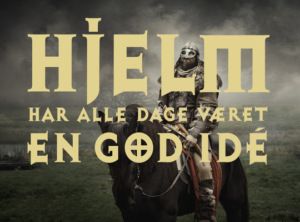 In the Viking Age, you wouldn't hear a Viking say 'it ruins my hair' when he needed to wear a helmet on his horse. No excuses. He would just wear it for the sake of safety. Now it's time for you to do the same and wear a helmet on your modern-day horse, according to Rådet for Sikker Trafik. 
Whether you are a Viking on a journey or a cyclist who is going into traffic, it is good to wear a helmet says Rådet for Sikker Trafik in its new campaign 'The helmet has always been a good idea'. 
Humor and irony
In the campaign, you will meet broad-shouldered and battle-dressed Viking chief Svend, who tries to come up with silly excuses to avoid wearing a helmet.
"There is a great deal of humor and irony in our new campaign," says Lisbeth Sahl, the senior project manager at Rådet for Sikker Trafik.
"But behind it is also a message that the excuses we sometimes have for not wearing a bicycle helmet can be a bit silly when we look at how high the price can be if you fall and hit your head."
Helmet makes a difference
A bicycle helmet halves the risk of getting serious head injuries when you fall from your bike. That is why Rådet for Sikker Trafik advocates that more cyclists should start riding with helmets.
"Our brain controls everything we do, and therefore it is important to take care of it," says Sahl. "A broken arm can usually grow together, but hitting your head can in many cases have serious consequences for a very long time." 
Increase in helmets stopped
The helmet gained popularity from 2015 until 2019, but this increase has stopped in recent years. A new bicycle helmet count shows that now 47 percent of the cyclists in Danish cities wear one.
From 2015-2019, the police have registered 633 cyclists who have either been seriously injured or who have lost their lives as a result of a head injury. In the capital, the most were registered: 249.
"There is a huge gain by getting more people to wear helmets and take care of their heads," said Sahl.
Check out the new Viking video below.