News
Local Round-Up: Fish kindergartens in the Port of Copenhagen
---
This article is more than 2 years old.
Biohuts for fish must help ensure more life in the Port of Copenhagen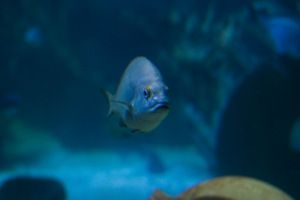 On Wednesday, 50 new kindergartens opened in Copenhagen. This time, however, they are not for children, but for small vulnerable fish in the harbour. 
The new fish kindergartens – officially called 'Biohuts' – must help to ensure more life in the Port of Copenhagen. The idea is that the fish are raised in a safe environment in the harbour until they are ready to go out to the big sea, according to Bo Øksnebjerg, the secretary-general of the WWF World Wide Fund for Nature.
A safe place for fish to eat and hide
"The biohuts are a kind of kindergarten or hotel for fish, where fish can both eat and be safe from the larger, hungry fish," explained Øksnebjerg to København Liv.
The kindergartens are made of a steel cage, which contains a small lattice box filled with empty oyster shells where algae and small organisms can grow. The outer steel lattice is made to protect the young fish from larger fish, and the inner lattice with the oyster shells feeds the fish.
More fish in the harbor
There are currently at least 28 fish species in the Port of Copenhagen, but the stock of many fish species is getting smaller and smaller according to Øksnebjerg, who remarked: "The Danish sea is generally under pressure."
Anne Skovbro, the head of By & Havn, calls the project a very simple way to get more fish in the harbour. "There must be much greater biodiversity [in The Port of Copenhagen]. This is a step in the right direction," Skovbro told København Liv.
Take a look
The biohuts have been set up on the waterside, but located away from the bathing zone.
"We have tried to place them, such as by the bridge next to the harbour bus, so many people can enjoy looking at them," said Øksnebjerg.
---
Copenhagen Airport expects a slightly more normal summer
After months of low numbers of passengers at Copenhagen Airport because of corona,  there has been a slow increase of late. The first sign of increase appeared in May, when the daily traffic figure of passengers rose to 8,300, up from 6,000 in April. As it looks right now, this summer Copenhagen Airport could reach 20-40 percent of its traffic numbers from before the pandemic. "There are lots of planes, there are lots of destinations, there is a healthy and safe airport. Now we're just missing the passengers, and it looks like they're cautiously on their way back," commented Peter Krogsgaard, the commercial director at Copenhagen Airport.
Test center Bella Center closed
There will be no more corona testing at Bella Center. It got too busy at the testing facility, which seized large parts of the area, created persistent traffic nuisances and caused neighbourhood complaints. On Monday evening, the test center was closed and moved to Ørestad Gymnasium. The test capacity will remain the same, just as the opening hours from 07:00 to 21:00 on all days of the week.
Jørgen Leth is looking for a walking partner
Do you want to practise your Danish while walking with a famous Dane? Jørgen Leth is looking for a walking partner. The popular speaker, radio host, journalist, poet, bicycle commentator and much more is offering a small salary to someone who can walk with him. "I pay a small salary and great experience," wrote Jørgen Leth on his Instagram profile.  It remains a bit of a mystery why he is looking for someone who will go for a walk with him. But if you're interested, you can send him a message via his Instagram.
Euro 2020 on big screens sold out in no time
On Tuesday, ticket sales for the screening of the European Championship games on the big screens at Ofelia Plads and Øksnehallen opened at 10:00. Just over half an hour later, more than 30,000 people were queuing up online to get the coveted tickets and soon the tickets were sold out.
Archaeologists discovered Stone Age settlement
At a new flower meadow at Utterslev Mose, archeologists have found several objects from the Stone Age. The finds point in the direction of a settlement from several thousand years ago. It's a unique find by Copenhagen standards because it was made in a relatively untouched area, where buildings do not prevent excavation.