Things to do
Unveiling the best bars in Copenhagen to watch Euro 2020
---
This article is more than 2 years old.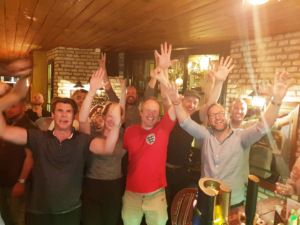 Hard to know where to start: how about at the very beginning? Oh, how very 'Sound of Music' of you! Austria are in it, after all, but they never seem to win anything bar Eurovision when they enter women with beards. Good in the late 1930s, mind you, but we know what happened to them.
On my first ever day at the Copenhagen Post, or at least not as a poorly paid freelancer, I started planning the week ahead's In & Out guide – an entertainment listings section that accounted for half the paper from 1998 to 2014.
'The best bars to watch 2008' was the feature idea – apparently it had never been done before. And 13 years on, while it has its moments, it's embarrassing to look at the layout as a whole.
The front cover photo of some Dutch fans watching a game in what looks like a Mallorca carpark is horribly pixelated, while gawd knows why an image of Frank Rijkaard spitting on Rudi Voller's mullet during the 1990 World Cup was chosen to illustrate the feature.
Only The Globe remains
Of course, nearly all the bars mentioned in the piece have gone out of business. Only The Globe, where the Dutch society were rooting for their team 13 years ago and will be returning next week, has survived.
The Italians back then, superstitiously following their 2006 World Cup win, favoured Cafe Sporten in Frederiksberg, which rather bizarrely was a Thai restaurant, while the French choice, Figaro restaurant in Østerbro, has also long gone under.
And rereading my own pieces in the issue reminds me that somebody stole my bicycle in early June 2008, that I used to love my work – the articles are crammed with interviews – and that I wasn't half as witty as I thought I was at the tender age of 35.
Read on, we hope, for a selection of the best bars to watch Euro 2020 … in June 2021.
---
Bigging it up for Belgium
Bar 1420, Griffenfeldsgade 20, Cph N; @1420bar
It wasn't that long ago that Belgium were the forgotten giants of the European game. Following their fourth-placed finish at the 1986 World Cup, they wouldn't make the quarters again until 2014, a welcome revival after back-to-back fourth-placed finishes in qualifying for 2006 and 10.
And had they not co-hosted Euro 2000, where their performance was a tad embarrassing given their home advantage, their appearance at the tournament last time around would have been their first since 1984, which came four years after they finished runners-up.
Dennis Vansant, the Belgian co-owner of Bar 1420, is buoyant about his nation's chances this year. On paper, they clearly have the most talent, and their biggest challenge is finding the right formation for the likes of Kevin De Bruyne from Manchester City, Eden Hazard from Real Madrid and Romelu Lukaku (putting him up front tends to work).
Bar 1420, famous for its TV series quizzes and standup comedy nights (Dennis presents and performs whenever he can), is not normally buzzing on Champions League nights, but for this, it could not ignore Belgium's amazing credentials.
"We're going all the way this time", promises Dennis. "With each major tournament, our fantastic team gains more and more experience and becomes more resistant to the pressure of performing at the absolute top level. We might have been outsmarted at the World Cup, but we're taking home the Euros. And when we do, we'll be drinking the way only the Belgians know how. Be prepared, Denmark. Things are going to get a little silly."
Ebullient for England
Storm Inn, Stormgade 20, Cph V; @stormgade20
Storm Inn landlord Adam Tobin's beer pipes are so clean, they can play 'God save the queen', but winning Euro 2020 would be another story: anyone for 'Land of Hope and Glory'?
It's been a long time since people have been tipping the Three Lions to win a tournament – despite their run to the semi-finals of the last World Cup, Euro 2004 was arguably the last time they were serious title contenders.
But now, with formidable attacking players such as Harry Kane, Phil Foden and Jack Grealish, along with surprise package teenagers Bukayo Saka and Jude Bellingham, they will scare the living daylights out of any defence on their day, providing their manager Gareth Southgate gives them the licence to thrill.
With its cask ale selections, and tasty hot pies, the Storm Inn is one of the only genuine English boozers in Copenhagen, so where better to sing a few verses of 'Football's Coming Home' and 'Vindaloo'.
"England will win this tournament" promises Adam the landlord. "Or not. Either way, we're drinking!"
Dedicated to Denmark
Kennedy's Irish Bar, Gammel Kongevej 23, Cph V
Ireland won't be featuring at the Euros this time around, and neither are Northern Ireland – a shame as both made it through to the final 16 of the last tournament, where the Republic gave the hosts France a mighty big scare.
In fact, Ireland beat Italy in their final group game to advance – their second major tournament scalp of the Azzurri in recent times – and there's no doubt they could teach England a thing or two about taking on the big boys.
But in the absence of the Green Army, the nation's most quintessentially Irish pub is throwing its good vibes behind Denmark.
Entering Kennedy's on Gammel Kongevej, just a stone's throw from the famous City Lakes, is like returning to the 'Old Country'. Its charming rustic interior has several inviting corners to snuggle up in, and besides showing football on multiple screens, it's well known for its regular jam sessions, monthly pub quizzes and basement pool area.
"We've got to be backing Denmark, haven't we," enthuses Tony Kennedy, the co-owner of the bar, who presumably won a toss of the coin when him and partner Tim Tynan named the joint 20 odd years ago. "After all, half of our customers are Danes: and we've got to keep our locals happy!"
Czeching out the champs?
Cafe Svejk, Smallegade 31, Frederiksberg; @cafesvejk
"I fucking hate football," confides Cafe Svejk manager Paul McNamara, which is kind in keeping with a bar that backs the Czech Republic.
Let's just say that they've garnered quite a reputation for keeping it tight at the back over the years. At both the 1962 World Cup and Euro 1996, where they made the final, they only scored more than one goal in one of their six knockout matches.
It has to be said, though: they're one of the dark horses at Euro 2020. Both over-confident England and ageing Croatian need to be wary of their unshowy work ethic, and in West Ham midfielder Tomáš Souček they have one of the top midfielders in the English Premier League.
Still, there's more to Svejk than the bar. Step outside and you're not only find plenty of places to sit in the sun, but the charming side-street Andebakkesti where Frederiksberg Have awaits you at the end.
Before that, make sure you drop in at Bon Bon Is, the capital's number one ice cream shop. The Italian influence on their every evolving line-up … well, it's like Claudio Ranieri at Leicester City all over again.
Never write off Netherlands
The Globe, Nørregade 43-45, Cph K
The Globe has been known to serve up Dutch delicacies such as bitterballen along with matchday deals on Grolsch.
Support Scotland
The Scottish Pub, Rådhuspladsen 16, Cph K
It's not well known for drawing in expats, but shouldn't this be the exception! Scotland have been in the international wilderness since the 1998 World Cup!
Welly for Wales
Charlie's Scott, Skindergade 43, Cph K
Charlie, yes, he's a real bloke, is known to be friendly to the Welsh contingent on the rare occasion they qualify for major tournaments. Don't laugh as they made the semis in 2016 … their first major for 58 years.
For France!
L'Education Nationale, Larsbjørnsstræde 12, Cph K
This laid-back Parisian café in the Pisserenden district is a bit pokey, but it's where you want to be if Les Bleus make the final again, which they are developing into an annoying habit of late. The cafe unfurls the tricoleur and swaps Bourgogne for Kronenbourg when the football's on, and don't turn down an opportunity to try their food.
Pepe talking Portugal
Falang Asiateria, (formerly Det Gule Hus), Istedgade 48, Cph V
The Portuguese diaspora have been congregating at Istedgade 48 to watch national games for decades. At one point, this place was called Restaurant Skank.
Hurrah for Hungary
Kompasset Ølbar, Østerbrogade 103, Cph Ø
Fantastic craft beers and friendly vibes await at this bar where proud Hungarian owner Balázs will be doing his best to evoke the spirit of 1953 from the poster documenting the night the Mighty Magyars thrashed England at Wembley.
Go Germany!
Berlin Bar, Gammelkongevej 147, Frederiksberg
With 140 bottled German beers and 13 on tap, the owners are passionate in equal measures about their German football and beer.
Resolute for Russia
Gorki Café Bar, Nansensgade 26, Cph K
The name says it all. Probably a good place to support Ukraine too.