News
Here comes the heatwave
---
This article is more than 2 years old.
On Thursday the mercury will hit a balmy 30 degrees – but the real scorcher is Friday with temperatures of 32.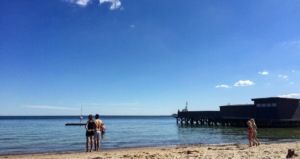 Dig out your sandals and fire up the barbeque – Denmark's about to get tropical.
"The first three days of the week we'll see regular summer weather, with temperatures between 20 and 23 degrees," said DR's weather forecaster Søren Vallentin Jacobsen.
But things will heat up on Thursday, when the temperature is set to reach 30 degrees. Friday will be even hotter at 32 degrees. The highest temperatures will be felt by regions in the southwestern parts of Zealand.
If predictions are accurate, it will be the second time in the last ten years that temperatures rise above 30 degrees in June.
Take care in the heat
With temperatures spiking, authorities advise close adherence to the usual summer precautions.
"When it is very hot it's a good idea to avoid direct sunlight between one and four o'clock. Those three hours alone see over half of all UV radiation," warns Søren Vallentin Jacobsen.
"If you do go out it's best to keep plenty of water within reach and, in general, to take it as easy as possible."
Warmer water for outdoor swims
The increase in temperature also means that the bathing water is starting to get warmer at some beaches.
The warmest is in Nakskov, where the water has been measured at 21.5 degrees. Both Korsør and Lemvig had water temperatures above 19 degrees.
For those seeking a cold dip, the lowest sea temperature is in northern and southern Jutland at 13.1 and 14.6 degrees.