News
Denmark meets Russia in must-win game tonight
---
This article is more than 2 years old.
It will be all or nothing for the Danish team tonight: a win over the Mighty Bear and defeat for Finland are needed for Denmark to move on in the tournament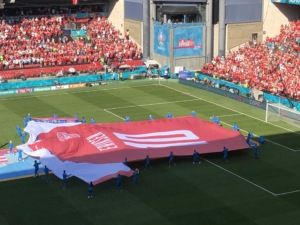 Denmark play Russia tonight at Parken knowing they must win and hope the other result in the group goes their way for them to advance to the knockout stage of Euro 2020.
However, despite two defeats and zero points, bookmakers still rate Denmark as the most likely team to finish second in the group.
They are 5/6 to go through, ahead of Russia (11/10) and Finland (6/4).
READ ALSO: Christian Eriksen to get an implantable cardioverter-defibrillator unit
Chances depend on Belgium-Finland
The top two teams in each of the six groups advance, along with the four third-placed teams with the best records.
First and foremost, Belgium must beat Finland. That coupled with a Danish win over Russia would result in Denmark, Finland and Russia all finishing with three points each.
In this scenario, the score would be essential. After 1-0 results in the other two games, Denmark would need to win whilst scoring at least two goals. So a 2-1, 3-2, 4-3 etc win would be enough.
Should Denmark win 1-0, the results against Belgium will be decisive, with the Danes hoping that the Finns do not surpass their 1-2 effort: by losing 2-3, 3-4 etc for example.
If Belgium and Finland draw, Denmark's only hope would be to be ranked as one of the four best third-placed finishers and, with just three points, their hopes would be slender – particularly given that Switzerland finished third in Group 1 with four points.
Danish team is optimistic
Despite the odds, the Danish team feel ready ahead of the match.
"On some level, the Euros start now. We have a knockout match ahead of us. We are used to situations where we need to win and that suits us just fine," said Danish coach Kasper Hjulmand at a press conference on Sunday.
The same sentiment was repeated by the Danish team captain Simon Kjær.
"Previously, when things have been bad, we have always been there and we'll do it again tonight," he said.
Backing of the Irish
And they can depend on the support of the Irish! Not only is Kennedy's Bar backing the Danes, but also Irish comedians Foil Arms & Hog.
After long deliberation, they concluded that the heritage of Thomas Delaney was a sound argument for all Irish to get behind Denmark (see below) this year.