News
Amsterdam bound! Denmark power past Russia
---
This article is more than 2 years old.
Emotional rollercoaster set to continue as Danes overcome yet another obstacle at Euro 2020 with 4-1 triumph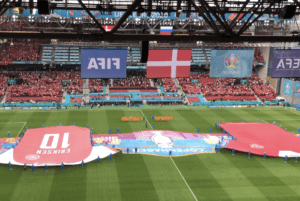 It's been some ride, as most Danes will tell you.
Euro 2020 has been the most turbulent maelstrom of emotions in Danish sports for … well, forever.
From almost the moment it started, the nation has been on the backfoot with star Christian Eriksen fighting for his life. 
But it won't forget how much of the sporting world has unified in its support for the tiny nation coming to terms with hurt, and then relief, as Eriksen pulled through.
A loss against Finland. Who could play football in such conditions. Another against Belgium – the fans turned up, but they're the world's number one.
It came down to beating Russia, and Belgium doing the business against the Finns.
It was hard going much of the way in both games last night, but eventually the stars aligned.
But before that happened … everything happened. A new starlet burst into the limelight.
The Danes struggled to break down the Russians, who only needed a draw, until 20-year-old Mikkel Damsgaard – Eriksen's direct replacement no less – curled a stunner into the top corner from 20 metres out.
READ ALSO: Christian Eriksen to get an implantable cardioverter-defibrillator unit
One of those days
The Russians, who could settle for a draw no more, were coerced into action in the second half. And into uncharted territory.
An absolute howler of a back pass gifted industrious Yussuf Poulsen and the Danes a second and the fans erupted as news emerged that Belgium had finally taken the lead.
But hark and woe! Denmark rarely do it the easy way. It's never silk and satin.
Suddenly VAR had erased Belgium's lead and the Russians had pulled one back from a penalty. It was all up for grabs again.
That was until defender Andreas Christensen (74 games for Chelsea and 0 goals) rocketed a 30 meter thunderbolt into the roof of the net some five minutes later to completely deflate any Russian hopes of a result.
Minutes later energic left back Joakim Mæhle put the Russians to the sword for a fourth and the Danish fans kicked into overdrive – especially since the Finns had conceded a second.
There was 10 minutes to go, but it was all a happy ride from there on out. A far shout from what had transpired in the same stadium a little over a week earlier.
Who could have imagined such a reversal.
There's little doubt that Eriksen, as all Danes, will be proud as Denmark travel to take on Wales in Amsterdam in the last 16.
And who knows. He might even show his face in support. After all, he made his bones in Ajax all those years ago.
Maybe it's time to go full circle.