News
Culture Round-up: Almost half of Danes worry their perspectives are skewed by 'fake news'
---
This article is more than 2 years old.
In other news, two homegrown Danish films make the cut for Cannes 2021, and 2022 looks to be a massive year for concerts with a slew of major musicians confirming Denmark gigs.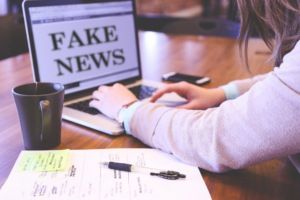 A new report by the Ministry of Culture called 'Media trust, fake news and fact-checking' demonstrates that 47 percent of the Danish population are suspicious that 'fake news' from various sources is clouding their worldview.
In fact, 60 percent believe that some Danish media outlets deliberately deliver fake news.
Conversely, other figures in the report indicate a high general degree of trust, with 66 percent of Danes believing that their news sources are honest and that any fake news reports are accidental.
A society of trust?
"Danish society is a society of trust. We must safeguard this.  The media plays an important role as a link between the citizens and the social institutions, so it's important that Danes trust it," said the culture minister, Joy Mogensen.
"We need to strengthen the journalism industry so that there is easy access to credible content that Danes think is relevant and trustworthy. At the same time, we need to have better control of social media, along with the tech companies behind them, to ensure democratic debate is not distorted online."
Despite the public's scepticism towards news, only a quarter of the population were found to use some form of fact-checking media. Men use fact-checking significantly more than women: 34 compared to 19 percent.
---
Multi-million kroner help package approved for new cultural initiatives
Some 272 million kroner has been set aside to support new cultural initiatives and institutions including digital theatre, the Workers' Museum, Goldschmidt's Academy of Music and Statens Kunstfond's 'dream scholarships', which awards grants to young people for creative projects. The support was approved by the Folketing's Finance Committee and will be partly funded by profits from Danske Spil and dividends from Det Danske Klasselotteri.
Denmark pledges support to libraries to help attain UN's Global Goals
In the government's action plan for the UN's Global Goals in Denmark special attention is paid to libraries. The plan highlights the role of libraries in encouraging 'public enlightenment' and outlines an approach that focuses on developing competence among library employees. The 17 Global Goals were adopted by the United Nations in 2015 as "a universal call to action to end poverty, protect the planet, and ensure that by 2030 all people enjoy peace and prosperity", according to the UN Development Program.
Remains of long-separated Viking brothers reunited in exhibition
Two men, presumably half-brothers, who were separated by a trip to England in the early 1000s, have been reunited in a Viking exhibition called 'Togtet' at the National Museum in Copenhagen, which opens on June 26. One was brutally murdered and thrown into a mass grave in Oxford during a massacre of Danish Viking settlers in the year 1002. Meanwhile, his half-brother lived a quiet, rural life on Funen, where he died at the age of 50.
Two Danish shorts selected for Cannes 2021
Two Danish films are competing for major awards at this year's Cannes Festival, which runs from July 6 to 17. Horror film 'Det er i jorden' by Casper Rudolf Emil Kjeldsen is one of 10 shorts competing for the Short Film Palme d'Or. 'Free Men' by Óskar Kristinn Vignisson, a graduate from the National Film of School of Denmark, is one of 17 films in contention for the 'Cinéfondation' prize for best graduate film.
Winning images of pandemic city-life from DAC photo contest go on show
The Danish Architecture Centre has presented the winning photographs from a contest that drew 4,400 entries in response to the question "How does architecture form the framework for both community and loneliness in our cities' spaces?" The winning images plus 55 selected entries are being presented in an exhibition on Bryghuspladsen in front of the DAC. The jury consisted of the former lord mayor of Copenhagen, Ritt Bjerregaard, the head of the Copenhagen Photo Festival, Maja Dyrehauge Gregersen, film producer Niels Bjørn, former contest winner Dennis Skyum, and Tanya Lindkvist from the DAC.
British stand-up comedian Sarah Millican announces Denmark tour
Sarah Millican is a well-known face on British television, having regularly appeared on 'QI', 'Live at the Apollo' and 'The Royal Variety Performance', as well as her own eponymous comedy show. This time next year, she will perform at the DR Concert Hall in Copenhagen as part of her Bobby Dazzler show tour. Last time she visited Denmark was with her Control Enthusiast show, which sold out at Bremen Teater. Tickets cost 265 kroner and sales open at 10am on June 24 at www.drkoncerthuset.dk.
Ru Paul winner Sasha Velour to perform at Koncerthuset
International drag star Sasha Velour, winner of 'Drag Race Season 9', is bringing her critically acclaimed show 'Smoke & Mirrors' to Europe in 2022. The 36-date tour will kick off in Helsinki on 20 January and will tour Belgium, Denmark, France, Germany, Luxembourg, the Netherlands, Norway, Sweden, UK and more. Sasha will perform in Copenhagen on 29 January 2022 at Koncerthuset. Tickets start at 430kr and are available now via www.drkoncerthuset.dk/event/sasha-velour.
String of major bands announce Copenhagen tour dates in 2022
Iggy Pop has announced gigs on June 3 and 5 at Værket in Randers and Falkoner Salen in Copenhagen respectively. Tickets start at 505kr on www.ticketmaster.dk. Meanwhile, Scottish indie-pop duo Belle & Sebastian will play at Vega on April 24, with tickets priced at 300kr. Australian folk band Sons of the East will tour Europe with their debut album, stopping in at Copenhagen's Lille Vega on February 17. Tickets from 200kr. Masters of melancholic rock, Norwegian band Madrugada, will also visit Denmark for three performances as part of their European Tour. Catch them at Train in Aarhus on March 14, Vega in Copenhagen on March 15, and Posten in Odense on March 16. Tickets from 295kr. The French techno pioneer Vitalic is celebrating his 20-year musical anniversary with a live show on December 9 2021 at Lille Vega. Vitalic's references span techno, house, rock, Italo-disco, classical and electro from the 1970s. Tickets from 250kr. Find tickets for all aforementioned concerts on www.allthingslive.dk.
Metallica to play at Copenhell 2022
Megaband Metallica have confirmed they will return to Refshaleøen's beloved metal festival Copenhell with their only Nordic concert in 2022. Metallica will play on June 15 on what was previously slated to be a festival 'warm-up day' – but which has been promoted to a full day. This means that – to the joy of Copenhagen's metalheads – Copenhell 2022 will be a four-day festival. Learn more at www.copenhell.dk.