News
Local Round-Up: Online supermarket loses contract with another municipality
---
This article is more than 2 years old.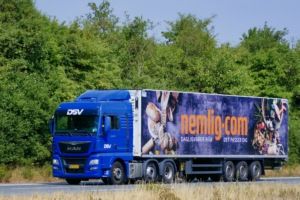 Gentofte Municipality has terminated its contract with Nemlig.com with immediate effect, citing the online supermarket's failure to provide information about the working conditions of subcontractors' employees.
The decision was made at a meeting of the municipal council on Monday night, after dialogue between the business and the municipality failed to resolve the issue.
Nemlig.com has always maintained it cannot provide information about drivers because they are employed by subcontractors. 
In adherence with a belief in proper working conditions
The municipality suspects the employees in question have a "salary and terms of employment worse than what follows from the representative agreement in the area".
"We are of the opinion that there must be proper conditions for the employees in the companies that are suppliers to our municipality. We are very clear about this when we start a collaboration," explained Gentofte Mayor Michael Fenge.
"The decisive factor for the termination of the collaboration with Nemlig.com has been that the company has not wanted to document the working conditions with a subcontractor, even though it is a requirement in the work clause that has been signed."
Under fire of late
Nemlig.com recently came under fire following a report in Politiken that claimed warehouse employees were bound to tough targets and rules regarding toilet breaks, and that it was not unusual to fire those who were not working quick enough.
In its defence, Nemlig.com argues it has been incredibly busy since the beginning of the pandemic, which resulted in the company declaring its first ever annual profit recently. 
When business suddenly picked up, it was necessary to hire 600 people in the space of a week.
Follows termination of Odense Municipality contract
Back in April, Odense Municipality terminated its contract with Nemlig.com for similar reasons, blaming the "poor working conditions" at the company. A TV2 report revealed that the municipality spent 1.47 million kroner on goods acquired from the company between March 2019 and 2021.
The TV2 report of the termination cited a survey carried out by online media outlet A4, which revealed that 40 Danish municipalities have a collaboration with the Intervare courier company, the owner of Nemlig.com, to deliver groceries to elderly, sick and disabled citizens.
Other municipalities – including Greve, Copenhagen, Frederiksberg, Hillerød, Roskilde and Fredericia – were said to be close to reviewing their contracts.
And Nemlig.com is also under pressure from trade unions, including 3F, and politicians – most notably from Enhedslisten.
---
Take a tour to discover the history of Amager Fælled
Barely a day goes by without another story about Copenhagen Municipality's controversial plans to build a housing estate on Amager Fælled, the capital's biggest green area, and it can be confusing for many internationals to understand the nuances involved. Kulturhuset Islands Brygge is accordingly offering English-language guided walks in the company of journalist and historian Majken Astrup, the driving force behind the 'Stemmer fra Amar' podcast. Both tours will take place on June 27, leaving from the DR Metro Station at 11:00 and 14:00. Tickets cost 50 kroner and can be purchased here.   
Five inner-city streets to be pedestrianised in urban planning experiment
Over the next four months parking will be removed and pedestrian status introduced on five inner-city streets as part of a pilot scheme. The streets in question are Skindergade, Vestergade, Dyrkøb, Lille Kongensgade-Store Kirkestræde and the section Klosterstræde-Hyskenstræde-Naboløs. The experiment will test new approaches to better accommodating cyclists and pedestrians in urban spaces. During the trial period, data on city life will be collected and various debate events will be arranged to help inform a permanent urban plan.
Mayor would like to see speed limits reduced in accident hotspot areas
Ninna Hedeager Olsen, the Copenhagen mayor for technology and the environment, would like to see speed limits as low as 30 km/h on certain roads in the capital in a bid to reduce the number of people hurt and killed in traffic accidents. Despite launching a 'zero vision' in 2017, the numbers since then, five people killed and 172 seriously injured, have been rising. In 2019, seven were killed and 195 seriously injured. Pedestrians and cyclists accounted for 81 percent of these figures. Olsen also contends that lower limits will also help to reduce emissions and noise.
Paddling pools reopen, but not in time for the recent heatwave
In connection with the lifting of corona restrictions, the capital's paddling pools have all reopened, although in the case of the pools in Nørrebroparken, Bredegrund, Skydebanen and Fælledparken, the Week 25 reopening came just too late for people to enjoy a paddle during the heatwave. This was not the case with the paddling pools in Remiseparken, Valbyparken and Hulgårds Plads, which all reopened on June 18. In related news, it is now possible to walk in both directions around the City Lakes, and the divider instructing people to stay to the right on Strøget has been removed.
New beach in Valbyparken opens
A new beach in Valbyparken has officially opened, although building the 120-metre sandy area was anything but a picnic. Construction work, which involved building a staircase and toilets, had to adhere to particular restrictions that apply due to the park's Natura 2000 status. Previously the site was used for industrial landfill. "In terms of size, it's by no means a new Amager Strandpark, but with the beach in Valbyparken, we are getting another recreational area that Copenhageners can enjoy, and I am really happy about that," commented Ninna Hedeager Olsen, the Copenhagen mayor for technology and the environment.
New Nordvest community centre opens its doors
A new 'Kvarterhus' has opened at Tagensbo School in the Copenhagen district of Nordvest, where locals can meet for activities, events and gatherings. The city mayor for technology and the environment, Ninna Hedeager Olsen, hopes the venue will "break down invisible social barriers and act as a natural focal point for the development of the local area."