News
Danish government to heavily reduce English-language course availability
---
This article is more than 2 years old.
Measures to target courses from which most graduates don't go on to get a job in the same field in Denmark.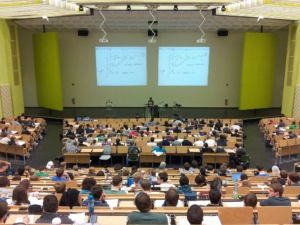 The government has reached across the political divide to get support for a controversial bill that will reduce the number of English-language courses available at Danish universities – most particularly for vocational academy students.
Blue bloc parties Venstre, Konservative, Dansk Folkeparti and Liberal Alliance all backed the bill, leaving Socialistisk Folkeparti as the only red bloc ally to side with the government party Socialdemokratiet.
Tired of the graduate exodus
At the current rate, the government noted, the expense of paying the SU grant to EU and EEA students is expected to rise from 449 million to 570 million kroner. 
The government reasons, in light of the growing cost of educating international students, that it is particularly necessary to target courses from which most graduates don't go on to get a job in the same field in Denmark.
For example, it is targeting vocational academy and professional bachelor courses because 72 percent of the graduates are English-speakers, but only 21 percent find work in Denmark after completing their education.
"It is not an easy decision, but we are purposefully reducing courses from which only a few of the foreign students subsequently end up working in Denmark," explained the education minister, Ane Halsboe-Jørgensen.
"However, we are aware it is also necessary to take local considerations into account – especially for some of the courses outside the main cities."
Large compensation package in place 
However, the government does not intend to completely snuff out English-language courses in business, and a healthy number of places will still be available.
Care will also be taken to ensure it does not detrimentally affect exchange courses. 
Funding will be set aside to compensate the establishments most affected by the cessation of courses. Some 50 million kroner will be shared in 2022, 37 million in 2023, and 25 million in 2024-25. 
A further 50 million kroner will be made available every year to assist with finding work for foreign graduates in a bid to increase the current success rate.
Under the current rules, foreign students need to work for 10-12 hours a week to qualify for obtaining SU.