News
No entry to the UK for Euros semi: the biggest affront to Denmark since the 1807 firebombing?
---
This article is more than 2 years old.
Football union making good progress with bid to sell 5,000 ticket allocation to compatriots based in Britain, but their presence will be slight in a crowd of 60,000 at Wembley on Wednesday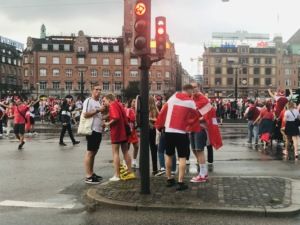 Brexit has always been a pain, but now it has hit the average Danish football fan to the same degree as fishermen, large exporters to the UK, and Brits living in Denmark.
The storm over petty entry requirements, which ensure no Danish fans can travel to support their team in the Euro 2020 semi-final on Wednesday, is quickly escalating into the biggest affront to this country since the British Navy firebombed Copenhagen in 1807!
Some observers might even go as far as saying it's cheating.
Only 5,000 available and no entry
Denmark face England at Wembley on Wednesday, and it would appear the UK government is doing its best to ensure the home side holds a significant advantage in terms of crowd numbers.
At both the games in Amsterdam and Baku, the Danes had considerably more fans that their opponents, but don't expect the same at Wembley.
Only 5,000 of the 60,000 tickets are available to Danish fans, but due to strict corona travel restrictions, no fans can this week travel from Denmark for the game.
Instead, the tickets are being steadily picked up by the relatively large Danish population in the UK – estimated to be just under 20,000 in 2001 – and so far around 3,500 have been sold. 
Different if it were the final
It gets worse, as the UK government has made a promise that should Denmark make the final, in which they would play the winner of the Italy vs Spain game tomorrow (so not England!), some 1,000 fans will be granted entry to the country.
Denmark's infection rate has been very low of late – to the extent that its residents can travel to almost every country with similarly low rates in Europe.
But the toys the UK threw out of its pram following Brexit are still on the floor. Its list of approved countries is widely considered as a joke (mostly Commonwealth members and obscure islands – so you're in luck British Indian Ocean Territory, whoever you might be) and only includes two EU countries: Malta and the touristy bits in Spain. 
To obtain entry to the UK, ten days of quarantine is necessary – even if you have been fully vaccinated. 
Turned down by UK government
The Danish Foreign Ministry yesterday confirmed it had tried to gain dispensation for travelling Danish fans, but was turned down, reports TV2.
"The Danish ambassador in London has been in contact with the British authorities, but they refused to make a deal for the semi-final like the one made for the final," it noted.
"The British authorities have introduced strict entry restrictions and quarantine requirements, which do not allow Danes to enter and watch the match on Wednesday. The same has been the case for Germany, the Czech Republic and Croatia when they played at Wembley. This is due to the British authorities' desire to ensure a health-sound conduct of the European Championships in light of the corona situation, where there is a widespread occurrence of the delta variant in the UK."
Three parties hoping for an intervention
MPs from three political parties have been stepping up the pressure on the Danish government to intervene, reports TV2.
"It must, of course, be done in a health-sound manner. But when it can be done in Amsterdam and Baku, it can also be done in London," reasoned Radikale MP Kristian Hegaard.
"This must be raised to the very highest level. I expect the foreign minister  to pick up the phone and call Boris Johnson tomorrow. It is important that Danish fans come to that match," added Jan E Jørgensen from Venstre.
"The number of infections does not result in more admissions. The vulnerable are vaccinated and people have coronapas. This is not just football, it's much bigger. It is also about people having been through a long pandemic and wanting to be allowed to be together again and show emotions, and they should be allowed to."
Dansk Folkeparti chair Peter Skaarup concurred: "I expect the government to address this issue as well. It succeeded in Amsterdam, and it succeeded in Baku. I am sure it can also be done in London."
Handing out flags and stuff
The DBU football body has been busy trying to sell the 5,000 tickets, and there has been a lot of interest – partly thanks to a campaign via social media.
"Dear Danes in London. We need your help!! No fans can travel from Denmark to London. We only have you guys," wrote Ronnie Hansen from the DBU.
"I have a message for you guys. We have about 5,000 tickets for the semi-final and the national team needs you to buy those tickets and FLAGS, SING and RAW for Denmark at Wembley on Wednesday. DENMARK RAINS WITH YOU!"
"We have sent a lot of Danish flags to Wembley, which we will hand out to the Danish fans. We try to press all buttons to make Wembley red and white," added Anders Haagen, the fan co-ordinator at DBU, to TV2.
How about the Scots?
Ah, red and white, which are also England's colours! But then again, it could work both ways.
The last word, though, belongs to Peter Heine Nielsen, the coach of chess champion Magnus Carlsen, who took to Twitter to write: "If we can't get enough Danes to come, at least let's sell our tickets to the Scots."