News
International Round-Up: Russian nuclear submarine spotted near Storebælt Bridge
---
This article is more than 2 years old.
Elsewhere, a Danish woman in her 20s has been found dead in northern Norway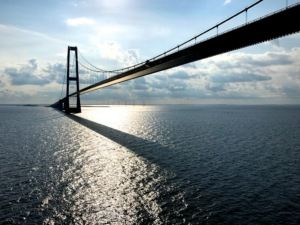 On Monday morning, the Russian nuclear submarine 'Orel' was spotted sailing under the concrete pillars of the Storebælt Bridge. The submarine was headed towards Saint Petersburg to take part in the annual Navy Day parade celebrating the Russian Navy.
The Danish Defence Command ensures that the transit was undramatic and followed all international rules for harmless passage. The rules dictate that the submarine must sail directly through Danish waters without stopping and remain in clear view on the ocean surface.
The 154-metre submarine is one of the largest in the world and contains both cruise missiles and torpedoes.
"It is a hunting vessel with a purpose to destroy hangar ships," explains submarine expert Lieutenant Commander Ditte Dyreborg.
Show of strengh
Even though the submarine was headed towards a parade, there is a clear motive behind the passage.
"It is about showcasing strength: both for your own population, the government and the rest of the world," said Dyreborg.
'Orel' has previously sailed through Danish waters in both 2018 and 2020.
---
Danish woman found dead in northern Norway
The search for a Danish woman in her 20s ended tragically when a rescue helicopter found her dead near the village of Å in northern Norway on Sunday night. The woman had been on a hiking trip and was reported missing after failing to turn up to work on Sunday. She was found a short time later after apparently falling. Police regarding the incident as an accident. The next of kin have been notified.
Jeppe Kofod presses for anti-corruption reforms in Ukraine
The foreign minister, Jeppe Kodod, will attend the annual Ukraine reform congress from July 7-8 in Vilnius, Lithuania. The focus of the congress is Ukraine: its challenges and living conditions. Ahead of the congress, Kofod declared that reforms on anti-corruption is the top priority on the Danish agenda. "The fight against corruption is the tool to ensure that the development in Ukraine moves in the right direction," he said.
Significant rise in ferry activity between Denmark and Sweden
Ferry company Stena Lines reports that bookings between Grenaa and Halmstad have risen by 135 percent in July, while departures between Frederikshavn and Göteborg have increased by 50 percent. The development means that Stena Lines is now again following its regular pre-corona summer schedule with almost 30 weekly ferry departures between Denmark and Sweden until August.
Woman arrested for scamming Polish seniors in Denmark
A 38-year-old Polish woman has been arrested while trying to enter Denmark at Rødby Havn. The woman is suspected of committing several cases of fraud in 2019 and from May-June this year. The woman would call elderly Polish citizens living in Denmark and impersonate a police officer. Then, she would convince the victims to gather valuable belongings in a bag and place it outside or throw it out of the window. Police suspect that more perpetrators have been involved and expect to make further arrests.
Denmark and Germany express concern over EU's view on nuclear power
Five countries, led by Denmark and Germany, have sent a letter to the European Commission expressing concern over their classification of nuclear power as green energy and a sustainable investment. The letter – signed by both the climate minister, Dan Jørgensen, and the business minister, Simon Kollerup – questions beliefs stated by the European Commission Research Centre that nuclear energy is no more harmful than solar and wind energy. Other co-signers of the letter are Spain, Austria and Luxembourg.
Foreign ministry advocates for better jobs and education in Africa
Every year only 3 million new jobs are created in Africa, despite many more young Africans entering the job market. The Foreign Ministry has reviewed this disparity and published a list of recommendations for better education, qualification and employment in Africa. "We need to create hope and a real belief among the young people of Africa that they have a future on the continent," said the development minister, Flemming Møller Mortensen.