News
Sport Round-Up: Tabloids tit-for-tat ahead of big Denmark-England clash
---
This article is more than 2 years old.
In related news, paramedics who saved Eriksen are invited to the final, along with the midfielder himself, and fears are rising that spilt beer could cost Denmark dear in the future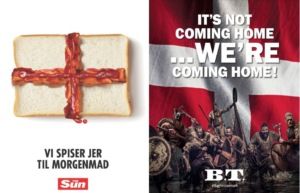 English and Danish tabloid newspapers The Sun and BT have good-humouredly exchanged ads in their editions today ahead of the clash between their nations at Wembley at 21:00 tonight.
The Sun's ad in BT today displays a bacon sandwich with the caption "We will eat you for breakfast".
BT's ad in The Sun, meanwhile, is an illustration of seven Vikings with the caption: "It's not coming home … We're coming home!"
Nicer than turnips
The good humour marks a departure as in the past The Sun has been particularly savage to opponents such as Germany … and also to an English manager or two.
Graham Taylor was famously depicted as a turnip on its front page after England was eliminated from Euro 1992 after defeat to Sweden.
The headline of the match report was "Swedes 2 Turnips 1".
---
One month on from saving Eriksen, a chance to reunite at the final
UEFA is treating the six paramedics who helped to save Christian Eriksen's life with a VIP experience at Wembley for the final of Euro 2020, reports Fagbladet Foa. One of them, Peder Ersgaard, told the newspaper he became suspicious when former national team doctor, Mogens Kreutzfeldt, asked for his email, but when he got the invite, he was still "all over the floor". For the paramedics, it might be a chance for a reunion, as Christian Eriksen and his girlfriend have also been invited by UEFA. "We do not know if they are coming or if they prefer to rest," a UEFA spokesperson said.
Crying over spilt beer could ensue
The DBU governing body wants Danish fans to stop throwing beer everywhere when their team scores. Heavily criticised during the last World Cup, it has become a tradition, and UEFA has ended up fining the DBU several times for the spillage. "Right now we have received several fines from UEFA for beer throwing. And those fines keep growing, so we have to get a handle on it and find another way to hopefully celebrate many victories and goals for this national team," DBU spokesperson Jakob Høyer told TV2. The DBU did not disclose the amount, merely saying it was "large thousands".  It has been further suggested that more incidents could result in Denmark being docked qualifying points and the culprits being banned from the stadium. 
Former speedway world champ to appeal against six-month suspension
Champion speedway racer Nicki Pedersen has lost his licence for six months after being found guilty of  threatening and unsportsmanlike conduct at an event hosted by his team Holsted Speedway Klub on June 2. NERI, the Danish governing body, has excluded the former world champ from competing in Denmark and internationally for six months. Pedersen's legal team claim he should only have been suspended for violent conduct, and an appeal has been lodged.
Young Dane fourth in the standings nearly halfway through Tour de France
Jonas Vingegaard remains fourth in the Tour de France after the tenth stage, five minutes and 32 seconds behind the leader and defending champion Tadej Pogacar. Still only 22, Slovenia's Pogacar is also competing in the Young Driver classification, relegating 24-year-old Vingegaard to second place. The next best-placed Dane is Jakob Fuglsang in 26th place, over 41 minutes off the pace. Three Danes – Kasper Asgreen, Michael Morkøv and Vingegaard – are 11th, 12th and 13th in the Green Jersey classification. Podiums-wise, Vingegaard finished third in Stage 5, while Magnus Cort Nielsen finished third in Stage 7.
Kojo all set to be first Danish men's 100-metre entrant since 1928
Kojo Musah, who this year has smashed the Danish men's records for both the 60 and 100 metres, will be competing at the Olympics over the longer distance – the first Danish man to enter the field since 1928. The Danish men will also compete in the 4×100 metre relay, as well as the women. In fact, Musah has broken the 100-metre mark twice this year so far, lowering it recently to 10.14. Nevertheless, Denmark's biggest hope of a track medal will be Sara Slott Petersen, who won silver in the 2016 Olympics in the 400 metre hurdles. She will be one of two flag bearers, together with sailor Jonas Warrer, when the Danish team attend the opening ceremony in Tokyo on July 23. 
Clara could not make it unlucky 13 against French Open champ
Clara Tauson, 18, was knocked out in the first round of Wimbledon, losing in straight sets to reigning French Open champion Barbora Krejcíková, the 14th seed. The  6-3, 6-2 win was the Czech player's 13th in a row, and she won two more ties before losing to top seed Ashleigh Barty in the fourth round. Neither Tauson nor her victor had ever won a WTA game on grass before. 
Rainbow warrior incident in Baku: UEFA to investigate
UEFA has launched an investigation into why a Danish fan had his rainbow flag confiscated during the quarter-final in Baku. UEFA denies that one of its officials took the flag, or that it had authorised local personnel to take such action at any of the stadia co-hosting the tournament. The fan, Kristoffer Føns, denies UEFA's suggestion that he was very drunk. "As soon as UEFA was made aware of the incident, we contacted the UEFA delegate and the security officer at the stadium to investigate and clarify the problem with the local guards. We were informed after the match that the flag had been returned to its owner," commented a UEFA spokesperson.
Emiliano finds his cherry
Danish attacking midfielder Emiliano Marcondes has left English Premier League new boys to join Bournemouth in the Championship. Formerly of FC Nordsjælland, the 26-year-old has signed a three-year contract. In other transfer news, Brøndby is reported to be selling midfielder Jesper Lindstrøm, 21, to Eintracht Frankfurt for 52 million kroner. 
FCK likes Diks
FC Copenhagen has snapped up Dutch right back Kevin Diks from Fiorentina after he impressed on a loan spell with AGF. He will rejoin Liverpool's Polish goal-keeper Kamil Grabara, who likewise played for Aarhus last season. FCK have also signed Shakhtar Donetsk's Georgian international midfielder David Khocholava, 28, on a four-year contract, as well as another keeper: Johan Guadagno from Manchester United's youth set-up.