News
Euro 2020 Semi Round-Up: Phew! That was close, concede English in Copenhagen
---
This article is more than 2 years old.
The Storm Inn saw a face-off between rival fans last night, where some pretty serious chanting broke out. But beyond a few smashed glasses … and tables … it was pretty civilised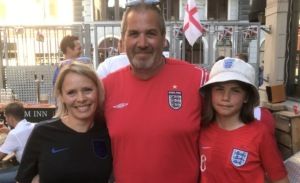 With almost every bar in Copenhagen flying Danish flags yesterday, a group of 50 resolute English fans, mostly from the expat football club Copenhagen Celtic, gathered in the appropriately-named The Storm Inn near the famous Tivoli Gardens in the centre of town.
They thought they would have the courtyard/car park to themselves, but as the clock ticked down to kickoff, more Danish supporters steadily arrived.
The result was some of the most intensive counter-chanting in living memory, as 'Coming Home' was drowned out by 'It was never home', and similarly 'Vi er rød, vi er hvid' was overran by 'Southgate, you're the one', 'Please don't take me home' and 'You're shit but your birds are fit'.
A few broken glasses and … tables
A little beer was thrown when the first goal was scored, a few glasses smashed (mostly by the Lady in Red, although it's rumoured a CPH POST employee might have been involved) and a couple of tables completely collapsed ("like fucking Miami"), but overall the occasion was testament to how two groups of rowdy fans could respectfully enjoy the game together, albeit watching a tiny 1990s TV pushed up against a window.
Then again, most of the fans were wearing red, and as it got darker, it was hard to know where to aim your vitriol: "Danmark! Shiiit"
CPH POST caught up with a few of the English fans before the game for their reflections on what has been a crazily intense tournament as Brits in Denmark.
John White
Age: 54
Occupation: Caterer
Originally from Tetsworth
In Denmark: 26 years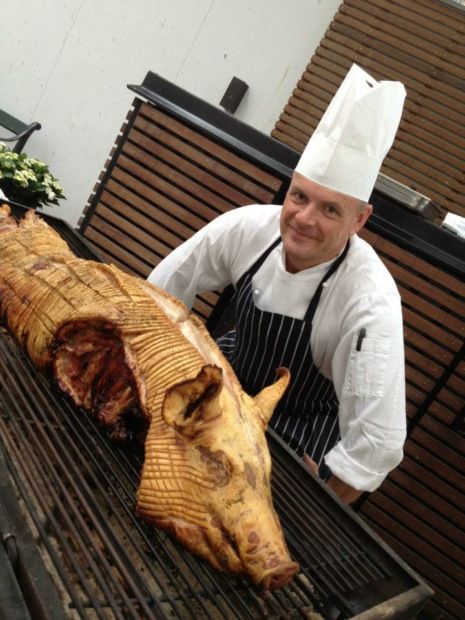 How have the Danes been?
A bit quiet and nervous, but they're quietly confident. England in a Euro semi … they know it could be worse.
What's the atmosphere been like?
With Russia and Wales, it was like they were stuck in a fairy-tale and had nothing to lose.
So pretty charged?
The kids have grown up hearing about Euro '92 and now they want to be part of something big too. It's been impossible to get people to work these last two Saturdays!
Adam Wells
Age: 32
Occupation: Nanny
Originally from Tunbridge Wells
In Denmark: 5 years

How'd you rate the mood?
Up until Sunday: great. Two parallel narratives: England uninspiring, Denmark's recovery. Watching the games: a bit flat with our lot, bouncing around with the Danes. But that beautiful period is over.
Why so?
We started singing after Denmark beat the Czechs, and some Danes screamed: "No, it is not f***ing coming home."
So what happens next?
The plan is to fill up a cargo bike with beer, play our songs on a loop, and head to a big screen surrounded by Danes. Let's see how they like it when our beer falls on their heads when England score!
Lena Hunter
Age: 28
Occupation: Bartender
Originally from Norwich
In Denmark: 4 years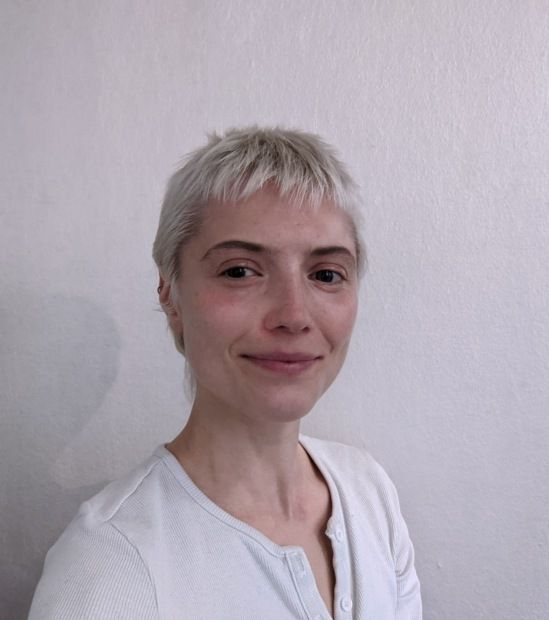 So I guess you've been busy in the bar?
No, we don't have a TV. It's been completely empty during the games.
And outside on the street?
Like a bad pantomime. Walking in the road indiscriminately stopping traffic to celebrate, draped in flags, really drunk, men, women, a sea of red. In fact, jay-walking is an understatement, I'd call this jay-squatting.
Is this normal behaviour?
No, in the winter, they're nowhere to be seen, but I guess the football brings their inner-anarchist out.
What's the craziest thing you've seen?
A guy jumping off a traffic light onto a moving bus!
James Goodley
Age: 51
Occupation: Carpenter
Originally from Barking
In Denmark: 26 years
You took your son Albert, 12, to watch the Ukraine game. What kind of country did you return to?
One that thinks it's invincible.
What's it been like at work?
Horrible: there's about 120 on site and not one thinks they're in trouble.
So plenty of banter?
Every day I receive something new. Pictures of Vikings: "Remember the last time we invaded". Or captions like "Three footballing superpowers … but never underestimate England."
What's it like at home?
My daughter won't admit she's English, my son the same about being Danish. My wife just hopes England wins because she can't bear the thought of how miserable we'll be.
Anders Nash
Age: 42
Occupation: Intl project manager
Originally from UK/DK
You're half-Danish: this must be difficult?
It is. I watched Euro 1992 with my Danish mother, who has since passed away. I'm sure she'll be with me in spirit for this game.
Are the Danes more passionate than us?
Normally no, but this time's different. Mainly due to Christian Eriksen, but also as a co-host, it's a depth of patriotism I've not witnessed before, and that includes 1992. The country has never been this united behind their team before.
Who deserves to win?
Denmark: with their trip to Baku and now Wembley with few fans, the odds are stacked against them. It's England's to lose.
---
Royals cakewalk past heavy restrictions to turn Wembley into a catwalk
The heavy restrictions facing Danish fans hoping to watch their national team play England yesterday didn't stop the Crown Prince Couple and their eldest son, Prince Christian, attending the game, and the Daily Mail once again confirmed its approval of Princess Mary's dress sense – this time thanks to a tasty little number courtesy of Alexander McQueen. She "chose a white top and dark red blazer, which she paired with trousers and accessorised with a tan coloured belt which cinched her in at the waist" … it's enough to make you forget there was a football match being played. "Crown Princess Mary, who wore her brown hair down in a loose blowdry, added just a pair of dainty earrings and kept her makeup neutral – finishing the look with just a touch of blusher, nude lip and layering of mascara." The royals were able to "skip UK quarantine rules under a deal struck with British Government and UEFA"., added the paper.
Well, I'm Inter you: new coach keen to welcome Eriksen back
Christian Eriksen will be welcomed back to Inter with "open arms" according to the new manager of the Italian club, Simone Inzaghi. It had been rumoured that Eriksen might have to find a different club due to Serie A's strict rules on players with defibrillator implants. However, Inzaghi has indicated that his resumption might depend more on the results of physical tests. "For now, he needs to rest, but as Inter coach I wait for him with open arms," Inzaghi said. "I spoke to him before the Euros, but not since his accident. He's a player who I would count on."
Laser pen incident doing its best to distract … fans from dubious penalty
Fortunately Kasper Schmeichel was not distracted or blinded by a laser pen shone at him from the crowd at Wembley stadium last night, which was picked up during the transmission of the game as he waited for Harry Kane to take his penalty. An investigation has been launched to find the culprit. In the end, Schmeichel saved the penalty but could not prevent Kane scoring with the follow-up. The referee's decision to give the penalty, which was mysteriously not referred back to the official by VAR, is hotly disputed with only one person adamant it was a foul: Raheem Stirling, the player who fell down in the box. "I went into the box and he stuck his right leg out, and it touched my leg so it was a clear penalty," he told media afterwards. 
Pub changes its Danish-sounding name for 24 hours … smart innit
A pub in Norwich, a city 100 km northeast of London, decided to change its name yesterday – for a 24-hour period – due to its connection with Denmark. The Prince of Denmark on Sprowston Road was renamed 'The Prince of England' as around 140 fans came in to watch the game, reports Norwich Evening News. It is believed the pub was originally named in connection with a local Danish farming family.
Super-fans get free pass to watch game as part of DBU official delegation
The DBU, the governing football body, has been accused by the English media of using its official delegation clearance to take 40 dedicated fans to the game last night at Wembley. The fans were mixed into a group of officials, sponsors of the DBU and players' partners, and they remained in a bubble throughout. It is reported by the Daily Mail that the 40 fans were chosen for having the biggest total of loyalty points obtained by watching Danish games in the past. In total, an estimated 7,500 UK-based Danish fans watched the game after the DBU managed to get an extra 2,500 tickets to satisfy the huge demand. An estimated 20,000 Danes live in Britain.