News
Culture Round-Up: Denmark's official Olympic song unveiled
---
This article is more than 2 years old.
Elsewhere, Tove Ditlevsen autobiography is to be made into TV series.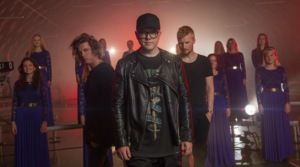 Official songs for sporting events are often associated with football. But this year fans might add a new tune to their sing-a-long repertoire, since Denmark will have its own song at the 2020 Summer Olympics in Tokyo.
The new song 'Vi kommer alle et sted fra' is performed by rock band Carpark North in collaboration with DR's girl choir. Simultaneously, the song will function as the theme music throughout DR's coverage of the Olympics.
Connecting views and athletes
"The song tells a story about how we reach our dreams standing on the shoulders of all those that have moulded us – teachers, trainers, friends and family," said Carpark North frontman Lau Højen.
"It's my dream that the song will create a connection between us viewers and the athletes."
Second time
It is only the second time a Danish Olympic song has been released – the first being 'Vi Brænder' by NOAH in 2016.
So far, India and the US have also released official songs for this year's Olympics.
---
Tove Ditlevsen's autobiography to be adapted into TV series
The autobiographical book 'Gift' by one of Denmark's most renowned authors, Tove Ditlevsen, will be turned into a four-episode miniseries. The series will be created by the writer-director duo behind the Bodil-winning film 'Dronningen' from 2019.  May el-Toukhy will serve as creative director and Maren Louise Käehne as the main writer. The series will focus on Ditlevsen's troubled life, her artistic aspirations and the deterioration of her four marriages.
Four English-language theatre groups shortlisted for CPH Culture awards
CPH Culture has announced another round of its biannual theatre nominations, and once again the English-language theatre groups are well represented on the list. In the foreign theatre category, Why Not Theatre Company has been shortlisted for 'The Cheyenne Are Leaving', a play that recently earned its Serbian playwright Tanya Mastilo a Reumert. Also nominated are That Theatre Company for 'Extremophiles' and the Copenhagen Theatre Circle for 'The Effect'. Meanwhile, British actor Daniel Niel Ash has been shortlisted for the breakthrough award for his starring role in 'The Shy Manifesto', which was produced by Down the Rabbit Hole and presented by HIT Copenhagen.
Nine festivals behind one-day music event
The new music event 'Tilbage til LIVE' has been announced and will feature performances by major Danish acts like D-A-D, Dizzy Mizz Lizzy, Suspekt and Tessa. The event is arranged by Live Nation in co-operation with Roskilde Festival, NorthSide, Heartland, Copenhell, Smukfest, Tinderbox, Jelling Musikfestival, Nibe Festival and Grøn. It will take place on September 4 at Refshaleøen, and the date correlates with the planned termination of current COVID-restrictions on September 1.
Play at Marionetteatret saved at the last minute
Less than a week before the opening, extra funding has saved Marionetteatret's rendition of 'Pinocchio' in Kongens Have. The theatre's government grant was smaller than anticipated and had initially put its summer repertoire in jeopardy. But funding from Sportgoodsfonden and Wilhelm Hansen Fonden has made sure that the performances will proceed as planned. Marionetteatret was founded in 1966 and has performed free puppet shows in Kongens Have almost every summer since then.
Academy Awards welcomes six Danes as new members
Six Danes have accepted an invitation to become members of the Academy of Motion Picture Arts and Sciences. Every year, the academy's more than 9,000 registered members decide the outcome of the prestigious awards. The new Danish members are producer Katrin Pors, cinematographer Manuel Alberto Claro, sound designer and composer Kristian Eidnes Andersen, animator Sara Koppel, make-up and special effects artist Morten Jacobsen, and the recent Oscar winner for Best Editing for his work on 'Sound of Metal', Mikkel EG Nielsen.
Copenhagen Summer Dance returns to Ofelia Square
Over the years, Copenhagen Summer Dance has established itself as a popular outdoor cultural event that gives the audience an experience in contemporary dance and music. The event will take place at Ofelia Square from July 22-25, and this year's program includes three world premieres as well as a street dance battle with a live performance by Outlandish. 
Cinemateket remains open during the summer
In the wake of COVID-19 shutdowns in recent months, Cinemateket has decided to expand its opening days over the summer. Instead of closing as usual, Cinemateket will remain open and offer plenty of events, showings and talks in both July and August.
String of music artists announce live shows
YouTube phenomenon and singer-songwriter Dodie will play Vega next year on April 23. Tickets start from 220kr on Ticketmaster. In related news, the American emo-rapper nothing,nowhere will follow up his new album with a show at Pumpehuset on January 26. Tickets from 200kr on Ticketmaster. Irish pop rock band The Script will play Musikkens Hus in Aalborg on September 23 this year and tickets are on sale from 400kr on musikenshus.dk. French progressive metalheads Gojira will rumble through Christiania venue Den Grå Hal on January 22 next year with tickets starting at 430kr on Ticketmaster.