News
Local Round-Up: Nurses' strike to escalate from August 12
---
This article is more than 2 years old.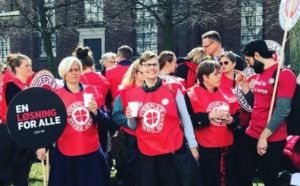 Some 5,438 people in the Capital Region have had operations postponed or outpatient treatment cancelled due to the ongoing nurse strike – out of 13,000 nationwide – and it is going to get even worse, as a further 702 will join their 4,750 colleagues from August 10.
The escalation is a result of a limited response from employers and politicians – most notably Danske Regioner and municipality association KL – explains the nurses' union Dansk Sygeplejeråd. 
Around 10 percent of the country's nurses have been on strike since June 19 over what they believe to be a derisory pay rise offer from KL of 5 percent over three years.
Broader repercussions
"We need to do something to get the politicians and employers to talk and make them aware that we mean this seriously," contended Dansk Sygeplejeråd chair Grete Christensen.
"If nothing is done about the nurses' salaries and working conditions, then in the future we will lack even more nurses, and it will be hard on the health service."
So far, the strike has hit operations and outpatient clinics the hardest, but the 702 nurses joining them "will have a much broader effect", according to Christensen.
---
Municipality targets bee-friendly status
Frederiksberg Municipality has set itself a bee-friendly agenda, but it won't be easy as its biggest green areas, Søndermarken and Frederiksberg Have, are state-owned. It therefore proposes a co-operation with the parks to add more bee-friendly plants along with 'hotels' where the bees can shelter. To officially become a bee-friendly municipality, a hectare of suitable plants is necessary, so the municipality will be dependent on residents chipping in. Every balcony counts! 
Sheep under attack from dogs left off their leash
A flock of sheep in Sydhavnstippen in the south of the city continues to sustain attacks from loose dogs despite By & Havn signs reminding their owners to keep them on a leash. The signs were erected after a sheep was killed in January. In a recent incident, a ewe was bitten twice, and in another, a ewe was cornered and suffered leg injuries in her bid to evade the dog. "When the sheep panic, they often become lame," explained Christina Søgaard, a volunteer at Børnenes Dyremark, via Facebook. Dog owners face a 2,500 kroner fine for ignoring the rules.
Station to be revamped in light of safety concerns
Vigerslev Allé Station in Valby will be revamped in a bid to address concerns over the safety of the area. Graffiti will be removed from its viaduct, and three bridges will be adorned with coloured tiles crafted by artist Lise Nørholm. Additionally, work will be carried out on making the entrance more pleasing to the eye. 
Concerns over debris from disintegrating road
Concerns have been raised about asphalt fragments the size of golf balls left on the road following work carried out near the Ågade/Jagtvej crossroads in Nørrebro. One motorist told TV2 how a large stone ended up denting his car despite him taking care as he drove past. "Imagine if it had hit a cyclist," he said. The matter has been reported to Center for Byvedligehold og Tilsyn at Copenhagen Municipality, which is responsible for road maintenance in the capital. 
Cash injection promised to improve capital's flood defence
The municipalities of Copenhagen and Hvidovre have been promised 1.5 million kroner from Realdania and the Ministry of the Environment and Food to strengthen their defence against flooding caused by storm surges – providing they can together find 1.75 million in their autumn budgets. Storm surges from Kalveboderne, a body of water in the south, tend to occur rarely, but when they do, the damage can be devastating.
Custodial sentences for kids who used a replica gun to rob kiosk
Three teenagers, all aged 17, have been convicted of attempting to rob a kiosk in Vanløse in December using a replica gun – a case the police cracked after one of them handed himself in. Additionally, two of the three were found guilty of mugging someone at Flintholm Station in October. In sentencing the pair, the judge handed out custodial sentences of 12 and 20 months, of which six were suspended, explaining that one of them had clearly not learnt from a previous conviction. The other teenager was handed a suspended sentence.