News
Culture Round-Up: You can eat your cake and … enjoy the happy day/play
---
This article is more than 2 years old.
Meanwhile, Hugh Grant's EMMY nomination is small 'bier' for Danish director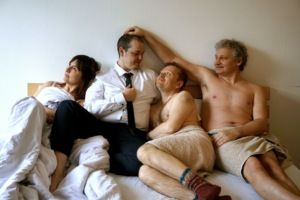 The English-language play 'Normal Cake, Please' is a trans-Baltic performance in more ways than one. Yes, it has trans elements, but it is also swiftly transversing the Baltic.
Following its premiere at Helsinki Pride recently, it will be playing at Carmeliter Priory (Hestemøllerstræde 3B) in Helsingør during the Passage Festival from July 29-31 (17:00 each day, tickets just 50kr) and then other churches in the future.
Among the creatives in the team are Jamie MacDonald, a stand-up comedian best known for the show 'Gender Euphoria', and acclaimed director Nina Larissa Bassett, who last year helmed the Reumert award-winning 'The Cheyenne are Leaving' for Why Not Theatre Company. 
Moved to tears
The interactive performance enables the audience to listen to a number of confessions before a wedding where they are invited to gossip and gobble cake – an essential part of fully understanding the play (see video below).
"The concept was absolutely fabulous! The fact that the pieces of the story could and in fact HAD TO be put together by talking to others was not only artistically refreshing, but also healing in a human way," applauded one audience member.
"Your actors were captivating – I was moved to tears in more than one scene!"
---
Queen Margrete exhibition timed to coincide with release of movie
Timed in anticipation of the release of the new film about the late 14th/early 15th century monarch Queen Margrete on September 16, an exhibition celebrating her life and achievements is opening at Dronningens Christiansborg (Prins Jørgens Gård 5, Cph K) eight days later. At the very same location (in the ruins the current building stands upon) some 650-odd years ago, the young queen married just ten years old. Continuing until December 12, its exhibits will include costumes and props used by the production team. Charlotte Sieling's film, 'Margrete den første' (Margrete: Queen of the North') starring Trine Dyrholm in the title role, is chiefly set in 1402. 
Rising star has two Cannes credits to her name now
Following on from her breakout role opposite Sidse Babett Knudsen in Danish crime family film 'Kød & blod', for which she received a Bodil nomination, young Danish actress Sandra Guldberg Kampp, 21, originally from just outside Svendborg, has followed up on her promise with appearances in no less than two Cannes-nominated short films. 'Inherent' (Nicolai GH Johansen – Critics Week category) and 'Det er i jorden' (Casper Rudolf Emil Kjeldsen – Best Shorts) come with good reviews; however, be warned, like 'Kød & blod', both are pretty grisly. Completing a trio of Danish films nominated for awards is 'Free Men' (Óskar Kristinn Vignisson – film school category). Meanwhile, 'The Worst Person in the World', which is competing for the Palme D'Or, is directed by Joachim Trier, a Copenhagen-born Norwegian director.
Home-grown music not as popular with Denmark's Spotify generation
Sales of Danish music fell by 17 percent between 2009 and 2019, according to Danmark Statistik, which was quick to point out that sales of overseas artists rose by 37 percent. The change means that Danish artists only account for a third of the nation's music sales, compared to almost a half a decade ago. Experts attribute part of the blame to how youngsters prefer to purchase their music today – from streaming services such as Spotify, which tend to promote big-selling international acts more than domestic ones. In related news, the rapper Gilli recently became the first artist to achieve a billion streams in Denmark alone.
Susanne's undoing: no Emmy noms for her … and just one for her cast
Susanne Bier missed out on an Emmy best director nomination for her work on 'The Undoing', which she exclusively shot. And in total, only one of her actors was nominated: Hugh Grant for Best Actor. Both Nicole Kidman and Donald Sutherland, nominated for Golden Globes, were overlooked.