News
Pundits concur that "next big Danish cycling hope" is a future Tour de France winner … some day
---
This article is more than 2 years old.
As a debutant who started the race as a support rider, Jonas Vingegaard's performance, which sees him second with three stages to go, has been remarkable. But he will need something extra special to beat Tadej Pogacar, a cyclist still streets ahead and two years his junior, anytime soon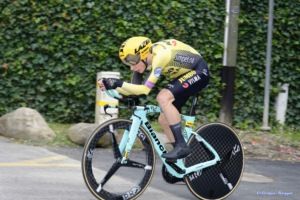 By the time Jumbo-Visma captain Primoz Roglic decided to pull out of the Tour de France – two crashes, including a serious one on Stage 3, led to him eventually withdrawing after Stage 8 – his Danish support rider Jonas Vingegaard was already more than five minutes behind race leader Tadej Pogacar. 
Today, ahead of Stage 19 – with just three more left to complete, of which two are formalities on the flat – he is only five minutes and 39 seconds behind Roglic in second place, on course to record Denmark's best result in the race since Bjarne Riis won in 1996.
The captaincy has clearly helped Vingegaard, and two back-to-back second-placed finishes on gruelling Stages 17 and 18 in the Pyrenees – both behind Roglic – have underlined his potential to mix it with the best.
Overall, it's not a bad effort for a 24-year-old making his debut in the world's most challenging and prestigious road race.
Surely a future winner
The big question facing Vingegaard is whether he should continue as an assistant rider, seek the captaincy full-time instead of Roglic, a two-time Grand Tour winner who finished runner-up last year, or leave Jumbo-Visma altogether.
TV2 pundit Rolf Sørensen contends that Vingegaard and Roglic will have a better chance of beating Pogacar in the future if they work together.
"Right now, Pogacar is unbeatable, but there are also holes in his armour somewhere; we just haven't seen them yet," he said. 
"I hope and believe most of all that Vingegaard can win the Tour de France. It will probably take a few more years, but he is very close. It only requires that Pogacar have a bad day."
It's good to avoid the pressure!
Another TV2 Sport pundit, 2010 Tour de France champion Andy Schleck, advises Vingegaard, who he described as the "next big Danish cycling hope", to share the captaincy with Roglic.
"It's good to be in a shared captaincy role because it makes you grow. He is young and he has the future ahead of him. When you are young, it can be good to not have all the pressure on you," said the Luxembourger.
"He should not submit to too much pressure. He should not stress over next year, he is only 24 years old. He still has three or four years where he can develop a lot. When the day comes, he will ride away from Roglic, and then he is the captain." 
Riis praises world-class temperament
Riis, who is also working as a pundit for TV2 Sport this tour, believes that Vingegaard is already outperforming his captain – and that his team realise this – but concedes that the sensible action would be to stay as a support rider.
"He must become mature and have more experience; there is a lot of work to do, but he must remain serious and stay focused on next year. However, I am not sure that Roglic could have done better than Vingegaard in this tour," he said, adding that he has been impressed by the poker-faced Dane's temperament.
"It is quite a factor that he is able to hide it when he has a bad day. That is something that is needed if you are to win the Tour de France. It's world class. Nothing less. He just does it over and over again. He has proven to be stable throughout the tour."
Bad luck, but not as bad as the ski-jumper
Unfortunately for Vingegaard, he looks set to miss out on winning anything (he's currently 12th in the green jacket classification and sixth in the race to be King of the Mountains) in this tour.
Because while he is only 24 and is in contention to win the Young Riders classification, Pogacar sits on top of the rankings as he is only 22.
Normally in cycling, riders reach their peak in their mid to late 20s, but Pogacar is defying the odds. Last year he became the youngest rider since 1904 to win the race – an irony not lost on his compatriot Roglic, who is 31 and only won his first grand tour event aged 29.
Roglic started cycling at the age of 23 after abandoning his previous career as a ski jumper.